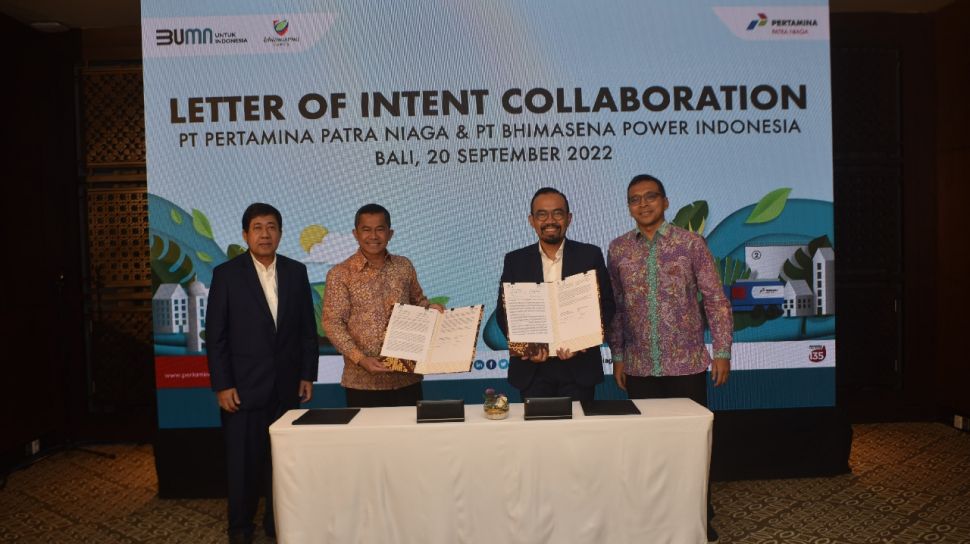 Suara.com – Pertamina Patra Niaga, as Sub Holding Commercial & Trading of PT Pertamina (Persero) continues to take the role of being a pioneer in supporting the transition to better energy use and efforts to reduce emissions. One of the efforts made is the Green Fuel Project initiative to realize the sustainable needs of industrial consumers in meeting their energy needs.
President Director of Pertamina Patra Niaga, Alfian Nasution said that currently the energy or fuel needs of industrial consumers do not only focus on how much fuel is needed, but also how the fuel used can meet the decarbonization criteria to support Indonesia's goal of achieving a net worth. zero emissions.
"Pertamina Group's target is to contribute to a 30% reduction in carbon emissions and increase the new renewable energy mix by 15% by 2030. For industrial consumers, we take this opportunity to introduce Coaltrans Asia to the Green Fuel Project initiative for all industrial consumers we serve. In addition, to support this target, we are also developing Green Energy Station gas stations, expanding access to fuel and LPG and a sustainable biodiversity program," explained Alfian.
Currently, the Government is preparing a carbon tax policy as an effort to decarbonize and reduce emissions to industry players. The Green Fuel Project offered by Pertamina Patra Niaga is a solution for industrial consumers in meeting challenges and policies related to the implementation of the carbon tax policy and the Carbon Economic Value policy.
Read Also:
Restrictions on subsidized fuel are considered very urgent
"With the Green Fuel Project, Pertamina Patra Niaga will sell existing fuel products and combine them with carbon solutions, which are solutions to industrial players who will be subject to carbon taxes. The scheme is in the form of Neutral Fuel or other mechanisms in the form of offsets with carbon credits. The Green Fuel Project is an initial initiative, while waiting for the Carbon Economic Value (NEK) regulation and the Carbon Tax regulation to be set by the Government," continued Alfian.
As a form of readiness to implement it, Pertamina Patra Niaga on the same occasion also signed a cooperation agreement with 2 industrial consumers, namely an exploration of cooperation starting with the signing of the Green Fuel Project Letter of Intent (LOI) with PT Bhimasena Power Indonesia and a Memorandum of Understanding (MoU) with PT Putra Perkasa Abadi regarding the fulfillment of industrial fuel on a large scale.
With this Green Fuel Project, PT Bhimasena Power can take advantage of the scheme to reduce the exposure to emission production that impacts on the company's carbon tax.
For cooperation with PT Putra Perkasa Abadi, Pertamina Patra Niaga will be committed to supporting the fuel needs for vehicles and mining equipment used. Based on the projections, for 2023, the fuel needed by PT Putra Perkasa Abadi will increase significantly per month, and this need will be supplied by Pertamina Patra Niaga.
"As one of the main suppliers for the mining industry, Pertamina Patra Niaga will be ready to provide fuel needs for all industrial consumers we serve. Again, our readiness to meet this energy need is accompanied by our readiness to follow and meet the energy transition, decarbonization, and emission reduction targets which are also in line with the focus on the Sustainable Development Goals (SDGs)," he said.
Read Also:
Collaborating with Tangsel and Bekasi Buffer Areas, DKI Provincial Government Conducts Joint Emission Test
For more information about Pertamina One Solution and all Pertamina services and products, the public can contact Pertamina Call Center 135 and Pertamina's official social media.