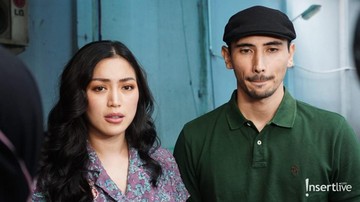 Newsdelivers.com, Insertlive –
Jessica Iskandar was sued back by Steffanus Budianto alias Steven in a civil manner. This was after Jessica Iskandar filed a report against Steven to the Polda Metro Jaya for cases of fraud and embezzlement.
Jessica Iskandar admitted that she suffered a loss of up to Rp9.8 billion and lost 11 of her cars.
Meanwhile, Steven had opened up about the confession of Vincent Verhaag's wife. Steven's party actually asked Jessica Iskandar's confession about the 11 missing cars.
Roland E Potu, as Jessica Iskandar's attorney, also opened his voice regarding Steven's doubts about the 11 missing cars.
"So with regard to these losses, it has actually been included in our legal remedies, as from our initial report at Polda Metro, we have classified these losses," explained Roland E Potu, Jessica Iskandar's attorney during a virtual press conference. .
"We believe that investigators will also look at the existing legal facts, one will talk about whether the losses are factual? Are the elements related to the allegations fulfilled? We believe so," he continued.
Meanwhile, when it was mentioned about Steven's filing a counterclaim against Jessica Iskandar, Vincent Verhaag said it was something every citizen did. However, Vincent Verhaag firmly stated that his party already had strong evidence related to the alleged fraud and embezzlement case.
"He has the right to respond. He has the right to fight. What applies here is evidence that applies in law books. It's okay for us to relax. He is an advocate and has the right to defend his client," said Vincent Verhaag.
"It will be proven," said Jessica Iskandar.
Roland, as the attorney, confirmed that his party was ready to take responsibility for the lawsuit. They are also ready to reveal all the evidence for what they have reported.
"The problem of classification of losses, as we make the report, will become material for investigators. When we report, we will prove it. Because what we are reporting is legal facts, facts of events, not our assumptions. If we postulate, we must have the courage to prove it," concluded Roland.
(cpr/fik)