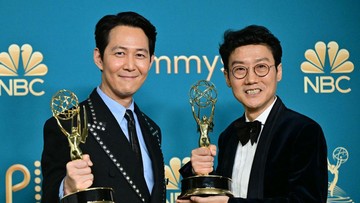 Newsdelivers.com, Insertlive –
Serial Squid Game 2 currently still in the preparatory stage. The director, Hwang Dong Hyuk, seems to have thought of another project though Squid Game 2 not finished yet.
Hwang Dong Hyuk claimed to have planned to make a new film. However, his brain still can't think independently because it keeps thinking Squid Game 2.
"I'm thinking of a feature-length film, but it's still a project that's far in the future because I'm thinking about Squid Game," said Hwang Dong Hyuk at a recent virtual press conference.
Hwang Dong Hyuk doesn't want there to be a big age difference between the characters on Squid Game first and second. Therefore, he only wanted to finish Squid Game 2 to immediately become an interesting spectacle.
"I will work on Squid Game 2 first, then the film, or there will be too much age difference from seasons 1 and 2. The stars will get very old if the gap is too long," he said.
"So I thought (Squid GameI have to work on the second season first," continued Hwang Dong Hyuk.
Hwang Dong Hyuk stated that filming Squid Game 2 will start next year. If filming goes smoothly without a hitch, Squid Game 2 can be seen in 2024.
"So we will start filming next year, I think. Then, it might just be released next year, it will take about two years (to produce). I'm currently diligently working on the script," explained Hwang Dong Hyuk.
Squid Game 2 likely will not only be filled by stars from South Korea. Hwang Dong Hyuk has opened up opportunities for Hollywood actors to join in the project.
(yoa/and)