Newsdelivers.com
–
Prambanan Temple is often included in the list of recommended tourist attractions that need to be visited during school holidays. This is because Mom and Dad can introduce history to the Little One.
When we talk about Prambanan Temple, the thing that immediately comes to mind is the story between Bandung Bondowoso and Roro Jonggrang. This largest Hindu temple in Indonesia has a memorable past history and is still an attraction for tourists today.
There are many things that can be learned if you visit there. For example, about the temple complex and the historical myths behind the establishment of Prambanan Temple. As reported by various sources, here is the story of the origin of the Prambanan Temple that can be told to your little one.
The Origin of Prambanan Temple
Prambanan Temple is the largest Hindu temple in Indonesia which was built around the 9th century by the king of the Sanjaya dynasty, namely King Balitung Maha Axis. This temple is located in the Prambanan Tourism Park area in Prambanan Village, Bokoharjo District, which is located in two areas, namely Sleman and Klaten Regencies.
Based on historical sources from the Syiwaghra inscription found around Prambanan, this temple was built by the Sanjaya dynasty.
However, there is also another myth that says that this temple is a form of requirements put forward by Roro Jonggrang, the daughter of the Prambanan Kingdom which was being colonized by the Pengging State army under the leadership of Bandung Bondowoso.
Bandung Bondowoso is known to have extraordinary supernatural powers and wants to rule the Prambanan Kingdom. But during his expansion period, he was attracted by the beauty of Princess Roro Jonggrang and wanted to ask for her hand as a wife.
Before becoming a wife, Roro Jonggrang put forward a condition that he wanted to build 1000 temples in one night. Bandung Bondowoso immediately mobilized the power of the genie to build the temple.
Seeing the almost complete construction, Roro Jonggrang was worried because he did not want to marry Bondowoso. He also ordered the ladies-in-waiting to burn the straw and beat the pestle, so that the day was bright and the rooster began to crow. Thinking it was morning, the genies ran and left a temple that had not been built.
Bandung Bondowoso was furious after knowing that the Prambanan Temple he had built was missing one and it was caused by the actions of Roro Jonggrang. As a result of his anger, Roro Jonggrang was cursed to become a statue in a temple to complete the number of temples to 1000.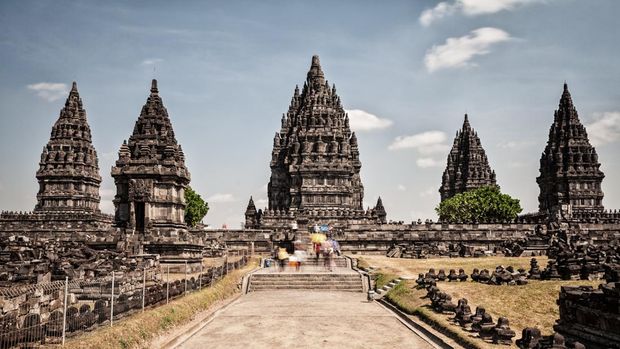 Prambanan Temple Illustration/Photo: Getty Images/iStockphoto/zodebala
Temple Complex in Prambanan Tourist Area
This Hindu temple has 240 temples that stand with entrances in the four cardinal directions. Although there are so many Prambanan temples, unfortunately there are only 18 temples that have been restored, namely eight main temples, eight small temples, and two ancillary temples.
The rest of the other temples are still in the form of piles of stones that have not been in the form of a temple. Here are some temple complexes that you and your family can visit:
Trimurti temples (3 pieces), namely the temples of Shiva, Vishnu, and Brahma.
Wahana Temples (3 pieces), namely Nandi, Garuda, and Goose Temples.
Kelir Temples (4 pieces) at each entrance to the temple's core courtyard.
Apit Temple (2 pieces) is located between the rows of Trimurti Temple and Wahana Temple.
Patok Temple (4 pieces) is located in the corner of the temple's core courtyard.
Perwara Temple (224 pieces).
That is the interesting origin of Prambanan Temple and its complex that you can introduce to your little one to learn history. If you and your family are going to visit there, make sure you still obey the rules, so that our ancestral cultural heritage can be preserved for generations to come.
Mother, come on download Allo Bank digital app here. Get 10 percent discount and cashback 5 percent.
Also check out the parenting style video applied by Cinta Laura's mother to teach children to be smart:
[Gambas:Video Haibunda]
(for/for)