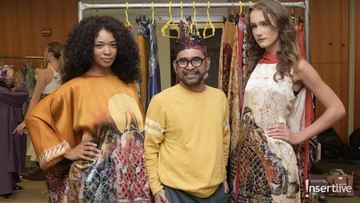 Newsdelivers.com, Insertlive –
The New York Indonesia Fashion Week 2022 or NYIFW will be held on September 11 (United States time) or September 12 (Indonesian time).
Program fashion The event was held by bringing 120 cool collections from Indonesian designers.
There were ten well-known Indonesian designers who joined the event.
One of the Indonesian designers who attended the NYIFW 2022 event was Sugeng Waskito.
Sugeng Waskito brought his collection from Geebatik by displaying the masterpieces of Borobudur Temple in every design.
"I'm showing 13 outfit with the theme of Borobudur Temple. Why? Because Borobudur Temple is famous in Indonesia and one of the wonders in Indonesia," said Sugeng Waskito InsertLive.
Furthermore, Sugeng Waskito explained the process of making batik with the Borobudur Temple pattern which he brought to the NYIFW 2022 event.
"Because batik, right, is not easy, there is a long process of about 3 months of preparation. So if batik, the pattern is first made first, then the Borobudur Temple batik is made," he added.
Sugeng Waskito added that he did not expect to be able to attend and participate in the NYIFW 2022 event.
"I did not expect to be able to perform here. I am very proud and very happy," he explained.
"Initially I was offered by the founder and producer of NYIFW, Vanny Tousignant, to be able to appear here. I finally started thinking about the idea of ​​displaying the masterpieces of tourist destinations in Indonesia," he continued.
Closing the conversation, Sugeng Waskito hoped that other Indonesian designers could appear on the international scene.
"My hope is that Indonesian designers can appear on the international scene," he concluded.
(dis/and)