SuaraSumedang.id – Bjorka hackers uncovered the identity of the alleged killer of human rights activist, Munir Said Thalib, who died by being poisoned.
In addition to spreading personal data allegedly belonging to the Minister of Communications and Information Technology, Johnny G Plate and several documentations allegedly belonging to the President of the Republic of Indonesia.
Apparently, the Bjorka hacker didn't play around and dared to mention the name of the alleged mastermind behind Munir's murder and at the same time leak the suspect's data.
Bjorka bravely revealed the alleged killer of Munir, through a link shared through a Telegram group called Bjorkanism, he said that the alleged killer of Munir was Muchdi Purwopranjono.
Read Also:Today's BRI Liga 1 live broadcast Arema vs. Persib, Luis Milla: We are in the same situation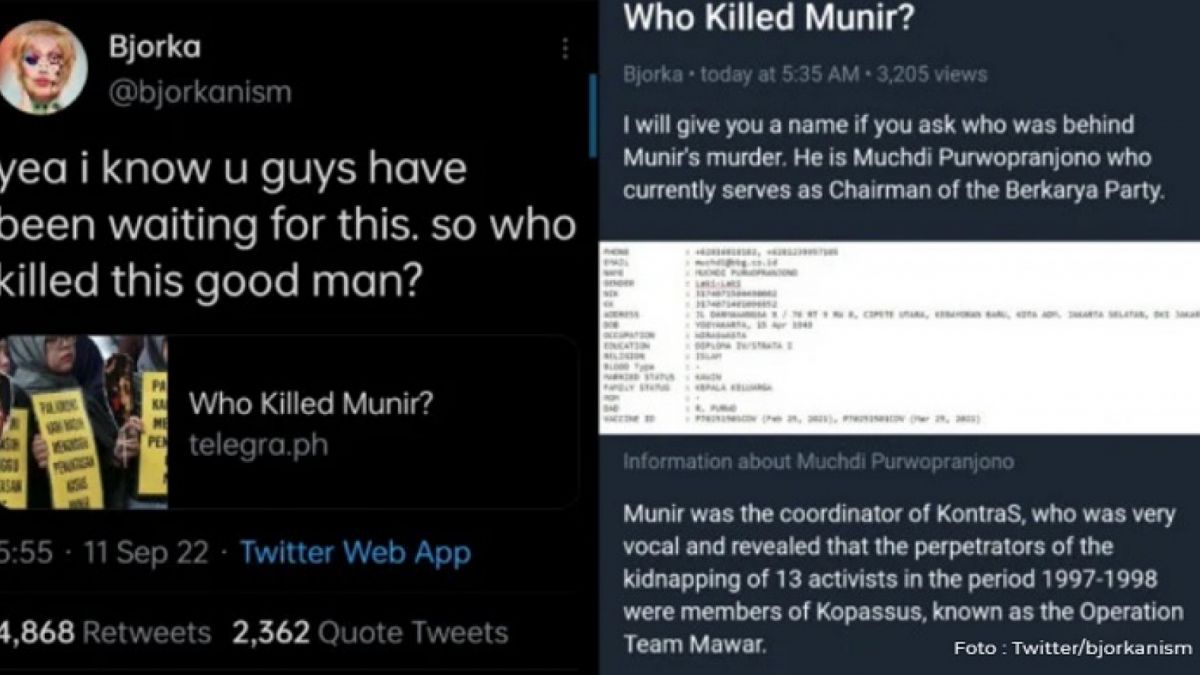 "Who killed Munir? I will give you names if you ask who was behind Munir's murder. He is Muchdi Purwopranjono who currently serves as Chairman of the Berkarya Party," wrote Bjorka quoted from Twitter @bjorkanism.
Bjorka's action in revealing the alleged killer of activist Munir made his name trending on Twitter in Indonesia.
Munir case journey
Munir left for the Netherlands to study at the University of Utrecht, Amsterdam.
He departed by boarding a Garuda Indonesia flight, flight number GA-974, which took off from Jakarta on September 6, 2004 at 21:55 WIB.
Read Also:Check bsu.kemnaker.go.id, BSU 2022 Rp600 Thousand Level I Liquid
The plane had transited at Changi, Singapore, according to TV One News sources. However, two hours before landing in Amsterdams, Munir was declared dead.
He was pronounced dead when the plane was at an altitude of 40,000 feet over Romania. After being examined by the Dutch police, Munir died from poisoning because arsenic compounds were found in his body.
Based on the statement from Kontras.org, Munir's murder was carried out in a systematic manner by involving the top brass.
Then, Pollycarpus' name came up during the investigation. As it turned out, he became an additional crew member and was identified as the perpetrator of Munir's murder, who acted to inject arsenic poison.
Pollycarpus was sentenced to 20 years in prison. However, his sentence was reduced to 14 years in prison.
In November 2014, he was paroled, and then in August 2018, he was declared pure freedom.
Name Muchdi Purwoprandjono
Major General TNI (Purn) Muchdi Purwaprandjono, born April 15, 1949, is a retired high-ranking Indonesian military officer, with the last rank of Major General now serving as Chairman of the Berkarya Party replacing Hutomo Mandala Putra or Tommy Suharto.
In 2008, Muchdi became a defendant in the Munir murder case. He is considered responsible for Munir's death, whose motive, according to the Public Prosecutor, is revenge related to the 1997/1998 abduction of activists by the Mawar team.
During the trial, it was revealed that he was not involved in the kidnapping at all because the incident occurred during the same period as when he was the Commander of Kodam VI/Tanjungpura, Kalimantan.
In the same trial, that when he served as Danjen Kopassus replacing Prabowo Subianto, he actually released the arrested activists.
Thus, on December 31, 2008, the Panel of Judges at the South Jakarta District Court sentenced Muchdi to acquittal of all charges.