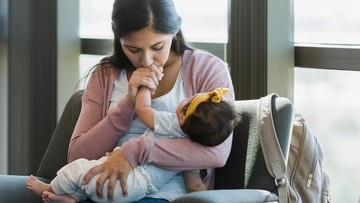 Newsdelivers.com
–
#HaiBunda Assalamualaikum… I want to tell you about my married life. AlhamdulillahMy husband and I have been in the household for 11 years.
We have two beautiful daughters, Mother. But, the name of married life, definitely not always happy. Of course, there are trials that come our way.
The story begins with the birth of our second child. AlhamdulillahMy husband and I are very happy because the little one was born healthy and safe. The birth process went smoothly and I am in good health.
In the midst of our happiness, suddenly my husband received news from the office. He got laid off! How shocked I was to hear the news. When my husband came home from work and told the news, he immediately burst into tears.
You may find it difficult to imagine, especially since I experienced it. What will happen to our family if my husband doesn't get a new job soon? Of course, all the needs of the family may not be fulfilled.
Open a coffee shop
Since the layoff incident, my husband began to spread job applications to places with job vacancies. But, to no avail, none of them got a call. Finally, my husband decided to open a coffee shop at home.
By taking our savings for capital, we finally agreed to start a coffee shop business. While raising a baby, I took the time to help my husband make various snacks for the coffee shop.
Can't imagine how tired this body is. On the one hand, I have to take care of my children, but I also want to help my husband. For the sake of family survival, I ignore fatigue even though sometimes it feels heavy.
In the first month, thank god The coffee shop is full of customers who come. But in the following month, the coffee shop was deserted because it was affected by the pandemic. I am very confused because the income is not sufficient for daily needs.
It's really hard for me to spend days in this condition. Sometimes while breastfeeding my little one, tears suddenly drop because of the burden of life that I feel.
My neighbor, my hero
After almost giving up, there was a neighbor who offered to open a kilogram laundry service. He said the laundry business had good results. Without thinking, I immediately tried the laundry business because the capital was not too big either. There is also a washing machine at home.
Initially, I promoted this laundry service by word of mouth. Especially to neighbors who are near the house. Alhamdulillah, it turns out that many neighbors are interested in laundry at my place. I set the rate for washing irons per kilo at a price of Rp. 4,000, for irons of Rp. 2,500/kg.
I can't believe it, it's been 5 years that this laundry business is still running. Even though I have to run a business while taking care of children, I do everything sincerely. I am sure, Allah will surely help His servants who want to try.
Little by little, laundry profits can help our family's economy. AlhamdulillahMy husband has also got a new job. Because the coffee shop was getting quieter, we finally closed it.
That's Mother, the twists and turns of my family's married life. Hopefully it can be an inspiration to all of you. Thank you
-Mother D, Central Java-
Want to share a story too, Bun? Let's tell us and send it via email [email protected] The best stories will get attractive prizes from HaiBunda.
Also check out the story of the struggle of a mother who experienced heavy bleeding during pregnancy, in the video below:
[Gambas:Video Haibunda]
(muf/muf)