The existence of electric train public transportation really helps the mobility of commuters who go to work to a city and return to their hometown every day. This also applies to the approximately 40 million passengers in Tokyo, Japan who rely on trains every day to go to work, school and more.
Although the train network in Japan is known to be very organized, disciplined, and punctual, but during rush hours, especially at train stations near offices and densely populated areas, you will see the sight of trains packed with passengers.
Quoting the writings in Live Japantrains in Japan are generally more crowded during work hours, which are around 7 am to 9 am, and after work hours, around 6 pm and last a few hours after.
In fact, some sources say that during these hours the trains are overcapacity by 70% to some 200%!
And like in Indonesia, trains in Japan also often look full because many passengers are standing near the train doors getting ready to get off. Hmma situation quite similar to Commuter Line in Jabodetabek.
Well, in rush hour situation, the station will hire officers oshiya or "pusher", whose job it is to push as many passengers as possible into the train, so that the doors can be closed.
Profession Oshiya Unique and Challenging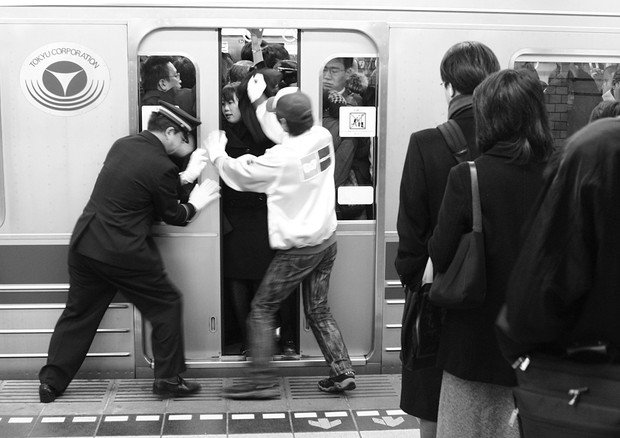 Oshiya or people pusher/Photo: Flickr.com/scott murdoch
Oshiya, also known as people pusher (people pusher) or professional pusher, is a profession carried out by a professional officer who works to help push people as hard as they can to get into the train carriages during rush hour.
Dressed in a neat suit and white gloves, the staff oshiya has the aim of pushing and shifting passengers who are reluctant to shift their bodies into the carriage, even though the inside is still quite spacious. Because the train will not run until the train doors are closed, the driver and passengers must wait oshiya finished doing its job.
Passengers don't mind this. Because, even if the trains are crowded, they still need to travel to their destination.
The profession of propelling people was first introduced a century ago in New York City, United States. However, pushers at that time were not very popular because they were known to push and shift passengers roughly, until the practice stopped. Meanwhile in Japan, formerly a profession people pusher mostly filled by students who work part time.
This job has a point of difficulty. Despite their risky work, professional pushers only have 10 to 15 seconds to push everyone in, before the next train arrives 2-3 minutes later.
Preparation to Become a Oshiya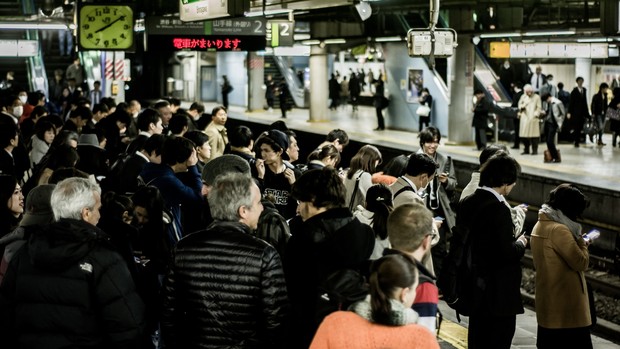 The oshiya profession needs preparation/Photo: Unsplash.com/redd
Can't be careless, profession oshiya requires special preparation before becoming a professional.
Quoted from Amusing Planet, one must undergo two weeks of training before taking up a professional driving position. Trainees will be taught to warn passengers that they will be pushed onto the train. Then, trainees have to do their best to push passengers until the doors close and the train can move.
How Much Do Professional Drivers Pay?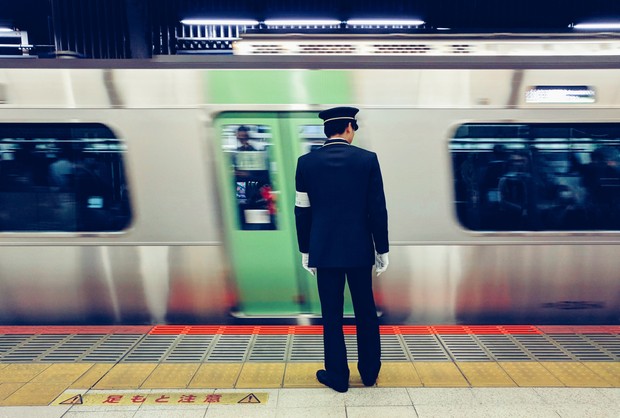 Salary of a professional pusher/Photo: Unsplash.com/hardik pandya
A user Quora who lives in Japan, Kotaro Hanawa commented on the work of professional pushers in 2018.
According to his experience, the salary of a professional pusher job is 1000 to 1200 (or around Rp. 106 thousand to Rp. 127 thousand) per hour with shift two hours, from 7 a.m. to 9 a.m. every day. However, it also depends on the company and the train station.
Those are the facts behind the unique profession oshiya, the driver of the passenger train. Apparently, the condition of train passengers in Japan during peak hours is similar to the phenomenon in Indonesia, yes. So, do you think Indonesia needs it too?
_______________
Want to be one of the readers who can take part in various exciting events at Beautynesia? Come on, join the Beautynesia reader community, B-Nation. The method REGISTER HERE!
(laughs/laughs)