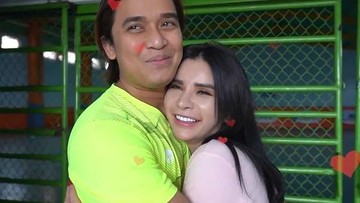 Newsdelivers.com, Insertlive –
Billy Syahputra and Maria Vania were later reported to be in a romantic relationship. That's because the two often appear intimate when creating content together.
Billy apparently did not deny his closeness to Maria. However, he did not explain in detail the status of his relationship.
When they were guest stars on Pagi Pagi Ambyar, Billy and Maria Vania were asked to look at each other by Dewi Perssik, Caren Delano, and Rian Ibram as hosts.
"What are you staring at, anyway? I can't look at Maria Vania, I'm afraid," said Billy Syahputra like someone who was embarrassed when he looked at Maria.
Billy's answer made the hosts curious. Dewi then questioned the reason why Billy was afraid to look at Maria Vania.
Billy then said that he was actually afraid to approach Maria Vania any further. He also revealed the reason.
"Because Maria Vania is extraordinary for attracting the attention of boys. That's why I was afraid to approach Maria Vania, afraid to go too deep and afraid of being hurt," explained Billy.
Even though he was afraid, Billy did not rule out the possibility that in the future he and Maria Vania could have a match until they ended up on the aisle.
"Yes, it's good, beautiful. But, right, I can't tell Maria Vania (the marriage) I know, it's not like that," he concluded.
(yeah/yeah)