Suara.com – PUBG Mobile has banned 459,403 player accounts within one week, from August 19 to August 25, 2022.
A total of 5,136 devices have also been banned from the battle royale game, as stated in the latest report shared through the official PUBG Mobile Instagram account.
It is observed that the ranking of the players who have been banned the most is Bronze, at 33 percent.
Followed by Ace 19 percent, Silver 18 percent, Diamond 8 percent, Crown 8 percent, Gold 7 percent, Platinum 6 percent, and Conqueror rank 1 percent.
Read Also:
PUBG Mobile Announces Cooperation with Dragon Ball
Some of the cheats used by PUBG Mobile players include X-ray Vision, which is the most detected by the anti-cheat system, which is 46 percent.
Other types of cheats that have been banned by the system include Auto-Aim hacks 21 percent, modified area damage 21 percent, Speed ​​hacks 9 percent, and others 3 percent.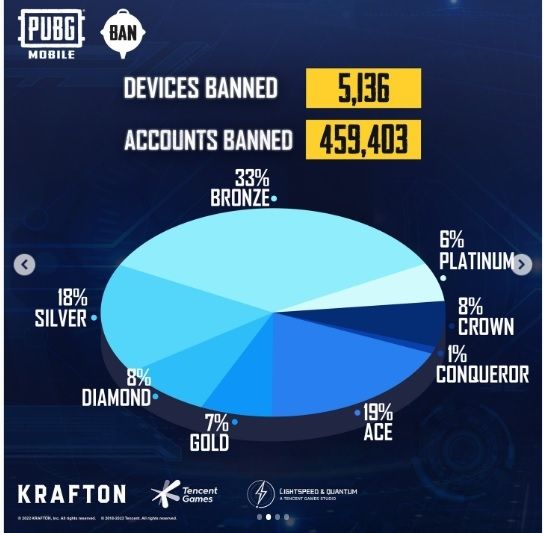 The company also detected cheat content circulating online. Within the Facebook platform itself, PUBG Mobile has deleted 30 Pages and Groups with a total of 314,217 followers.
While on other platforms such as Instagram, as many as 30 accounts with a total of 75,333 followers have been banned for sharing cheating game content.
PUBG Mobile has also removed content shared by 41 videos on TikTok with a total of 1.9 million views and removed 1,811 videos on YouTube for a total of 688,140 views.
Read Also:
Still Fresh! Immediately Exchange PUBG Mobile Redeem Code August 30, 2022
PUBG Mobile players are expected to play fairly because using cheat methods will be self-defeating.