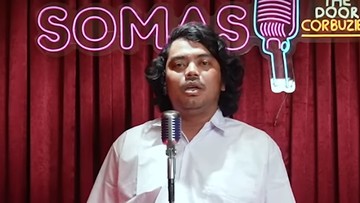 Newsdelivers.com, Insertlive –
Ananta Rispo openly admitted that he had played gambling online. However, the comic never once won in a gambling game online that.
When Ferdy Sambo was busy he was said to be involved in a gambling network onlineFico Fachriza's older brother strongly agreed to be eradicated. The reason is Ananta Rispo admitted that he suffered a lot of losses from gambling online that.
"From the first time I played, until now I lost. And now there are many gambling to be eradicated, eradicate now!" said Ananta Rispo on Deddy Corbuzier's YouTube channel, Tuesday (30/8).
Even Ananta Rispo did not hesitate to reveal the bookies who offered himself to play gambling online via WhatsApp. Rispo said they usually offer low deposit prices with big profits.
"I'm dismantling a gambling syndicate" online here!" he said.
Komika, who is a member of the GJLS group, also read out the contents of the WhatsApp message she received.
"Greetings, I'm Sarah, flood jackpot and max win. Want to win, sis? For Sarah only 20 percent," he explained.
"Sindi too, a down payment of Rp. 20,000 can get Rp. 3 million," continued Rispo.
Some even offer a deposit of IDR 50,000 with a profit of up to IDR 1 million. Ananta Rispo admitted that he did not get any profit. In fact, the capital that was used was exhausted.
"It costs Rp. 1 million, you press it once and it runs out. You really need to be arrested, so there won't be many victims!" he concluded.
As is known, nowadays it is called Ferdy Sambo who is involved in a gambling network online 303.
(kpr/and)