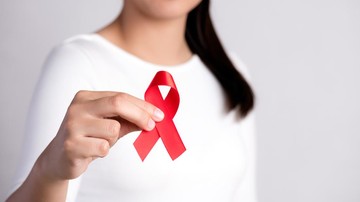 Newsdelivers.com
–
Have you heard about the cases of 400 Bandung students who were infected with HIV or the Human Immunodeficiency Virus? Following this news, there was concern about what the early symptoms of HIV might look like and how it is transmitted.
Quoted from Healthline, the early symptoms of HIV are known as acute retroviral syndrome. Usually the symptoms that appear are similar to those of when someone has the common cold, such as headaches to sore throats.
Then, how to distinguish it from other infections, especially COVID-19? Symptoms of COVID-19 usually appear within two weeks of being exposed to the Corona virus. Fever, chills, cough, sore throat, shortness of breath, muscle aches, stuffy nose, loss of taste or smell are some of the symptoms associated with COVID-19.
Some people can be infected with the Corona virus and don't cause symptoms. The COVID-19 test is the only right way to know if someone has contracted COVID-19.
While early symptoms of HIV can feel like a severe case of the flu or COVID-19, they usually occur a few weeks after infection. In many people, early signs and symptoms of HIV include:
Fever
Headache
Fatigue
Swollen lymph nodes
Stupid
Joint or muscle pain
Sore throat
This early phase of acute HIV is the body's natural response to HIV infection. Symptoms usually go away in one to four weeks, which is why they are often mistaken for a case of the flu.
This viral infection will not directly damage the body's organs. This is because the virus slowly reproduces and attacks the immune system, gradually weakening it. This phase can be referred to as clinical latency symptoms. A person infected with HIV at this stage may feel healthy and look fine.
If not treated with proper care, HIV can develop into a chronic condition that is potentially life-threatening, namely Acquired Immunodeficiency Syndrome (AIDS). AIDS itself is the development of stage 3 HIV infection.
CONTINUE READING CLICK HERE.
Yuk download Allo Bank digital app here. Get 10 percent discount and cashback 5 percent.
(I am/am)