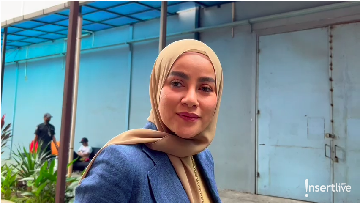 Newsdelivers.com, Insertlive –
Olla Ramlan is now playing her role as a single parent after her divorce from Aufar Hutapea. Even now, Olla Ramlan has not seen a new man.
Of course, it is not easy for Olla Ramlan to re-open her heart to other men after her household with Aufar Hutapea which lasted for 9 years ran aground. Olla Ramlan is currently still comfortable with his solitude and with his children.
However, it turns out that Olla Ramlan has a unique habit of crying. The reason is, Olla Ramlan can cry due to very unexpected reasons.
While talking on the Sweet Daddy Trans TV program, Olla Ramlan frankly gave his habit. Olla Ramlan admitted that he could immediately cry just because his head was stroked by his partner.
"Yes, it's with someone or with a husband or boyfriend, for example," said Olla Ramlan, broadcast by Sweet Daddy Trans TV.
However, Olla Ramlan emphasized that only the closest people could touch his head so he could cry. It turned out to be due to the spoiled nature of Olla Ramlan. Therefore, it is not surprising that the mother of three can cry when her head is stroked. Because, he can feel loved by the people around him.
"I mean, I'm spoiled by someone close to me. I like hugs like that," he explained.
Regarding his current life, Olla Ramlan said that he should be grateful for everything. Olla Ramlan always instilled in himself that there are still many people whose lives are much more difficult.
"Sad or happy, we just have to be grateful. We have to be strong, if we see our own troubles it will never end. We see that there are always people who are more difficult than us and not as lucky as us," concluded Olla Ramlan.
(kpr/kpr)