SuaraSerang.id – The Banten Police succeeded in uncovering cases of online gambling syndicates and gambling directly as a result of the disclosure of each line of the Resort Police.
The Head of Public Relations of the Banten Police, Kombes Pol. Shinto Silitonga, revealed that the Ditreskrimum of the Banten Police with their respective ranks of Police immediately responded by revealing cases of various types of gambling.
"Banten Police have released the disclosure of 29 gambling cases and 65 suspects, both those carried out by the Ditreskrimum of the Banten Police and the ranks of the Resort Police," said Head of Public Relations of the Banten Police, Kombes Pol. Shinto Silitonga during a press release at the Banten Police Headquarters, Thursday (25/8/2022).
The amount of money that was confiscated from this gambling crime was quite a lot. Say Shinto
Read Also:If there are no restrictions, Sri Mulyani predicts the Pertalite quota will run out in September 2022
"Investigators managed to confiscate the most Rp. 947,585,500 from the RM online gambling syndicate under the guise of an advertising company of Rp. 931 million, but it turns out that the company opened 50 websites which were apparently used not for advertising service promotions but for various online gambling slots," he said.
Gambling Eradication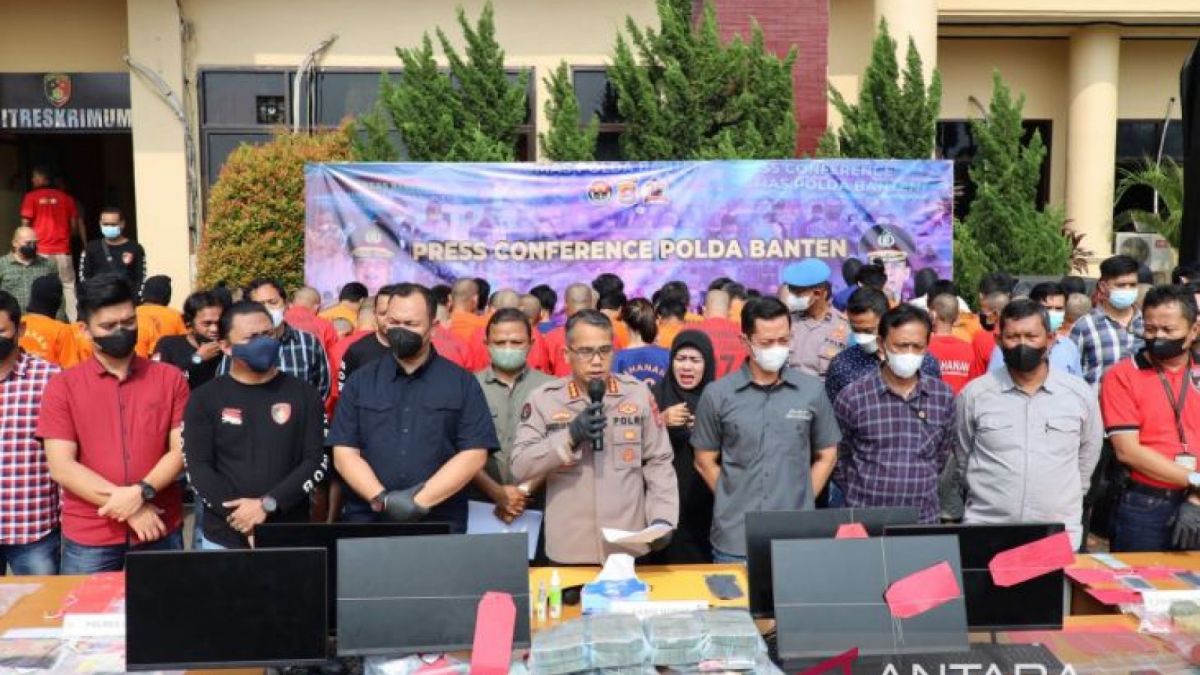 Shinto named the suspect RM as a Commissioner of an online gambling company, while the two suspects in the team and two suspected dealers had DPO status.
"The suspect, RM, revealed the case in the Tangerang area, while two people are part of a team, and six suspects are marketing suspects and two dealer suspects are still on the DPO," he said.
Because the amount of money managed by this gambling syndicate is quite large, investigators will cooperate with PPATK in order to assist investigators in tracing the flow of funds.
"The Banten Regional Police Chief remains consistent with the eradication of gambling in the Banten area and continues to order Criminal Investigation Officers at the Polda and Polres ranks to continue to take action and disclose all forms of gambling down to the dealer level, and ask investigators not to hesitate to apply suspicions of money laundering crimes by involving PPATK's role is to be able to trace the assets resulting from crime with the principle of follow the money and follow the assets," explained Shinto.
Read Also:Ready to Fire Cadres Who Beat up Mothers at Gas Stations, Gerindra Outraged Calling Sukri Zen Kutu Kupret to Crazy People
In addition to collaborating with PPATK, the Banten Police are also coordinating with Kominfo to be able to block online gambling sites.
"Banten Police have identified 71 online gambling sites from the disclosure of these 29 cases and will immediately coordinate also send a letter to the Ministry of Communication and Information to block these online gambling websites, namely ALL TOGEL, ELANG GAME, NAGA 66, PANEN 55, ELANG 189, DANA 189, RADEN 99, DELTA TOEL, JITU PAITO, SYDNEY TOGEL, HONGKONG TOGEL, SINGAPORE TOGEL, NADIM TOGEL, ROKOK BET TOGEL, ABU TOGEL, SELEB TOTO, ENTER TOGEL, WAK TOGEL, BATIK POKERDO, APP GAME, LAMA KING 9" added Shinto.
Reporter: weli
Source: Between