Suara.com – Indonesian women's doubles, Ribka Sugiarto/Siti Fadia Silva Ramadhanti failed to meet the medal target at the BWF World Championships after being defeated by Thailand's representatives in the round of 32, Wednesday (24/8/2022).
The pair Jongkolphan Kititharakul/Rawinda Prajongjai were the executioners who eliminated Ribka/Fadia with a rubber game 15-21, 21-10, 15-21 in a match that took place at the Tokyo Metropolitan Gymnasium.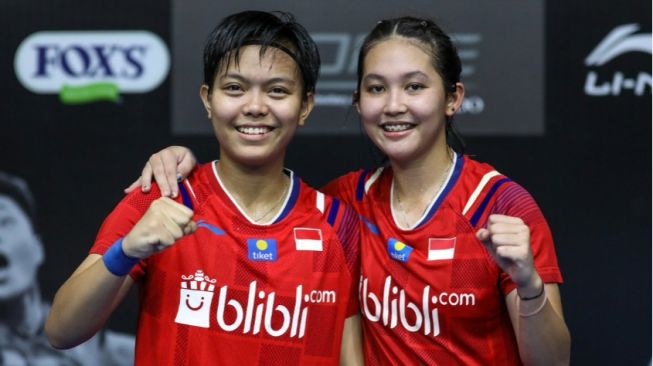 "In the first game we received a lot of attacks from the opponent, too carried away by their pattern. In the second game we could change the situation by playing our way and our pattern. The opponent was also uncomfortable so we tried to keep pressing," said Fadia in PP PBSI's official information in Jakarta .
After struggling for 58 minutes, finally Ribka/Fadia could not form a solid game in the decisive game. A very tight score forced them to play harder, which was still able to be tricked by Jongkolphan/Rawinda.
Read Also:
2022 World Championship: Kidambi Srikanth Eliminated by Unseeded Players
"From the beginning of the third game until the point interval was tight. But after moving places we lost focus and rushed to attack, but instead we were not ready for their counter-attack. In the end we died a lot by ourselves," Rebekah said.
Rebekah/Fadia also admits that playing in the World Championship is not easy, even the atmosphere feels different from other tournaments.
They have played optimally and have a strong desire to win. However, Rebekah/Fadia did not regret the result and gained valuable experience for future tournaments.
"Alhamdulillah, I was able to get through this match even though the results were not as desired. For me this is like a boost to return to my best game and increase my enthusiasm. These two matches have been quite out, hopefully in the future I can continue to show my abilities," said Ribka.
Furthermore, Fadia will welcome the Japan Open 2022 tournament next week with her new partner Apriyani Rahayu. Meanwhile, Ribka had to be absent because her partner, Febby Valencia Dwijayanti Gani, was still injured.
Read Also:
2022 World Championship: Zacha/Bela Eliminated by Dutch Representatives in Second Round
[Antara]