Rice is usually always avoided in diet programs or programs Flatten the belly. There are many other alternatives as a substitute for rice, one of which is potatoes. The carbohydrate content in potatoes is much smaller than rice.
Potatoes are also packed with many important nutrients, such as vitamin B6, vitamin B1, vitamin B3, vitamin B5, vitamin C, potassium, phosphorus, manganese, and iron. However, many are often bored with the same processed potatoes.
You can, you know, try processing potatoes into salad let's not get bored. Launch Eat This Not Thatthe following is 5 recipe creations salad Potatoes are anti-stomach which you can try at home. Come on, see!
Greek Potato Salad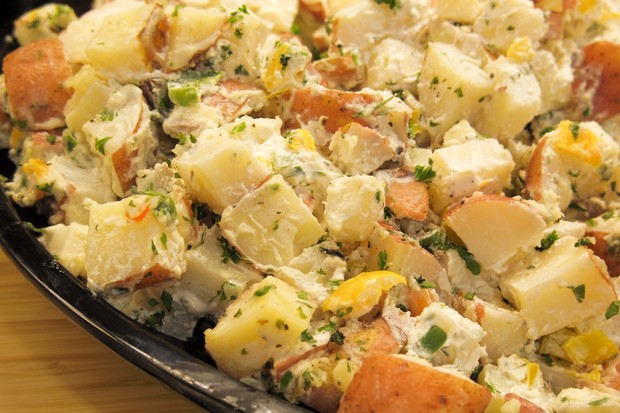 Greek Potato Salad Illustration/Photo: Pixabay.com/kartinas
Freshness herbs from salad dressing Yogurt-based so blend in the creation salad this. Additional pieces of cucumber and red onion also add texture crunchy.
Ingredients:
1 1/2 kilograms potatoes, washed and cut into cubes with the skin on.
1/3 cup red onion, chopped.
1/2 cucumber. Cut in half, remove seeds and cut into cubes.
1 cup Greek fat-free plain yogurt.
1/4 cup mayonaise.
3 tablespoons chopped fresh parsley.
1 tablespoon chopped fresh dill (optional).
1 1/2 tablespoons lemon juice.
1 clove garlic, chopped.
1/2 teaspoon lemon zest.
Salt and pepper to taste.
How to make:
Boil the potatoes over medium heat for 8-10 minutes, don't forget to add salt.
Once the potatoes are tender and fully cooked, let them cool.
In a separate container, place the cucumber slices on top paper towel to remove the water.
Mix the cucumber pieces in a large bowl, add the yogurt, mayonnaise, parsley, dill, lemon juice, and garlic. Season with salt and pepper, then stir until smooth.
Add the cooled boiled potatoes and large chopped onion to the bowl, mix well. Serve with extra parsley and lemon zest.
If you want to get more nutrition, you can consume salad these potatoes with grilled salmon, grilled shrimp, or grilled corn as a side dish.
Low-carb Cauliflower Potato Salad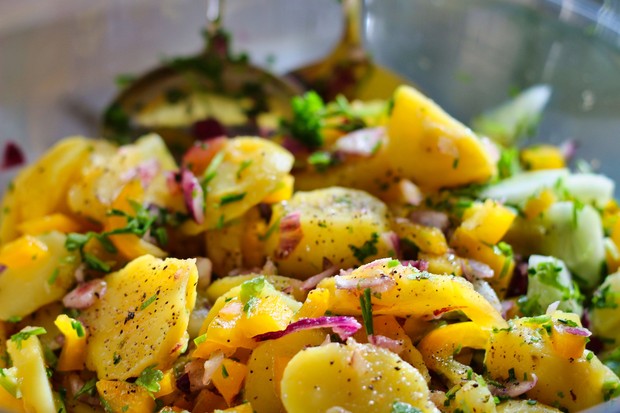 Ilustrasi low-carb cauliflower potato salad / Photo: Pixabay.com/Sinawa
Instead of potatoes, recipe salad This uses cauliflower which is low in carbohydrates as the main ingredient. It also uses cashew cream sauce in place of mayo sauce. Salad These potatoes are dairy-free, gluten-free, and perfect for the Paleo diet.
Ingredients:
5 cup cauliflower florets.
3 boiled eggs, chopped.
1/2 cup chopped celery.
1/4 cup chopped onion.
1/4 cup chopped red onion.
2 tablespoons of dill.
Cashew Nut Cream Sauce:
1 cup cashew nuts.
2 tablespoons of apple cider vinegar.
1 tablespoon mustard.
2 tablespoons fresh dill.
1 tablespoon chopped red onion.
1 clove of garlic.
1 teaspoon sea salt.
1/2 teaspoon pepper powder.
1/3 cup air.
How to make:
Soak the cashews for one to two hours. Drain and rinse thoroughly.
Boil cauliflower until tender for about 10 minutes. Drain and rinse with cold water.
Blend all sauce ingredients until smooth.
In a large bowl, add the cauliflower, hard-boiled egg, celery, onion, scallion, and dill.
Add the sauce to the bowl and mix well. Serve cold. Salad it can last for two days.
(sound/sound)