Newsdelivers.com, Insertlive –
Sad news came from Arumi Bachsin. Her father-in-law, Achmad Hermanto Dardak, who was the father of her husband, Emil Dardak, died.
The news of the departure of Arumi Bachsin's father-in-law was initially known from messages circulating among journalists. It was stated that Achmad Hermanto Dardak died due to a traffic accident in Pekalongan, Central Java.
Currently, the body of Arumi Bachsin's father-in-law is in a hospital in Pekalongan.
"Sad news Innalillahi wa innailaihi roji'uun. Allahumaghfirlahu warhamhu waafihi wafuanhu Mr. A. Hermanto Dardak has passed away due to a traffic accident in Pekalongan this morning, August 20, 2022. Please forgive any mistakes. Currently in Poso Pekalongan Hospital," said the message.
Emil Dardak himself has confirmed the news of his father's departure through an Instagram upload. He wrote a farewell sentence.
"Farewell my lifelong inspiration. Im so proud to have you as my father. This is your favorite song," wrote Emil Dardak while accompanied by a song My Way from Frank Sinatra.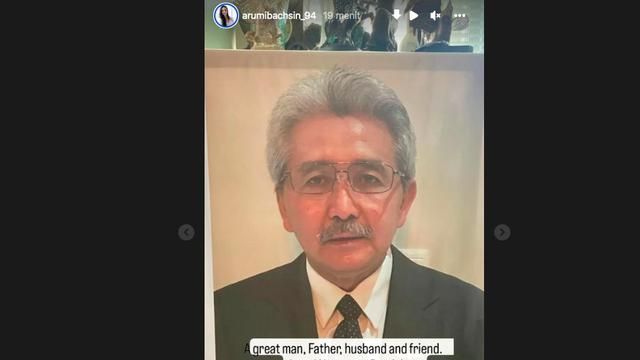 Arumi Bachsin's father-in-law/ Photo: Instagram Arumi Bachsin
The same thing was also done by Arumi Bachsin through Instagram uploads. The artist asked the public to pray for the departure of his father-in-law.
"A great man, Father, husband and friend. Ahmad Hermanto Dardak. Please pray for the best for our father, in order to get the best place by His side. Amen YRA," wrote Arumi Bachsin.
(yeah/yeah)