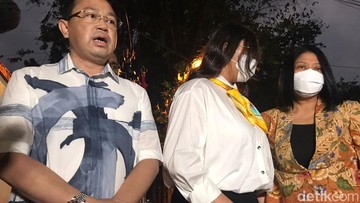 Newsdelivers.com, Insertlive –
Putri Candrwathi, wife of Ferdy Sambo, is a suspect in the premeditated murder of Brigadier J alias Brigadier Yoshua Hutabarat.
Komjen Agung Budi Maryoto in a press conference stated that Putri was at the scene when Joshua was killed on July 8 with other suspects, Bharada Eliezer, Bripka Ricky, Ferdy Sambo, and Strong Ma'ruf.
"Thus PC's mother was named a suspect," said Komjen Agung Budi Maryoto, Friday (19/8).
The National Police Timsus also explained the possibility of Putri being detained after being named a suspect.
Until now, Putri is declared not to have been detained because it is still in the process of being investigated.
"Still in the process of investigation. In the near future a trial of the code of ethics will be conducted," explained Agung.
Putri Candrawathi was charged with Article 340 concerning premeditated murder, which is subsidiary Article 338 concerning murder in conjunction with Article 55 in conjunction with 56 of the Criminal Code.
(yo/kmb)