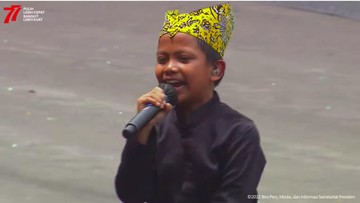 Newsdelivers.com
–
A boy from Banyuwangi named Farel Prayoga suddenly went viral on social media. Farel's action singing at the Merdeka Palace during the 77th Indonesian Independence Day ceremony became a public conversation, Mother.
Behind her charming appearance, it turns out that there is an unexpected story coming from her parents. Farel's parents, Suyoto and Siti Mujanah, were only able to watch Farel's appearance from the screen of their cellphone or cellphone.
This is because Farel's parents do not have a television (TV), Mother. The Farel family used to have a TV, but it was damaged by a lightning strike.
"Our television was damaged by lightning. We looked through YouTube," said Suyoto to reporters, Thursday (18/8/22).
After witnessing Farel's performance singing in front of President Joko Widodo (Jokowi) through YouTube, Suyoto and his wife returned to their activities. The two of them never thought that their son's appearance could go viral.
According to Siti, the excitement only started after her son appeared. The neighbors told Suyoto and Siti that Farel was being talked about on social media.
"Then we saw it on a neighbor's television. Alhamdulillah, it turns out that Farel's dream of becoming a singer is getting closer," said Siti.
Farel Prayoga went viral after singing the song Don't Compare' at the 77th Indonesian Independence Day ceremony at the State Palace. Farel's appearance received praise from netizens, Mother.
Many netizens praised Farel's good voice and high self-confidence. It should be noted that this 12-year-old boy does not only appear in front of President Jokowi, but also in the ranks of the cabinet or ministers.
Farel's parents said they were proud of their son's talent. Even so, Farel's mother hopes that her son will remain humble even though he has been known by many people. Siti also left messages and other wishes for her son.
CONTINUE READING HERE.
Mother, let's download the Allo Bank digital application here. Get a 10 percent discount and cashback 5 percent.
See also 5 points of the history of independence that can be taught to children, in the following video:
[Gambas:Video Haibunda]
(duck/as)