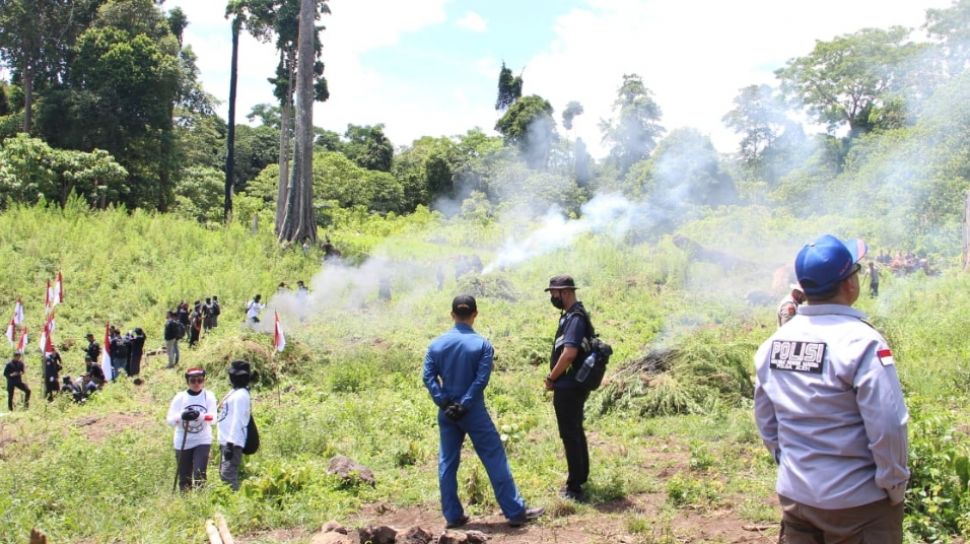 Suara.com – Police found a 25-hectare marijuana field in Aceh Besar District, Aceh. This discovery is the result of the development of the disclosure of cases of marijuana distribution weighing 270 kilograms of the Aceh-Lampung-Jakarta network.
"Then the case was developed and nine locations of marijuana fields were found," said the Director of Narcotics Crime (Dirtipid Narkoba) of the Indonesian National Police, Brigadier General Krisno Siregar, to reporters on Thursday (18/8/2022).
Krisno said that each point of the field has an area ranging from three to four hectares. Now the cannabis plant has been destroyed together with the Aceh Regional Police and Customs and Excise.
"A total of approximately 25 hectares, to be later destroyed by a joint team of the National Police's Drugs and Crime Investigation Directorate, the Aceh Police and the Directorate General of Customs and Excise by removing it and burning it," he said.
Read Also:
One Person Named as Suspect of Ownership of 10 Hectares of Marijuana Field in Cianjur
Regarding the disclosure of the distribution of marijuana in the Aceh-Lampung-Jakarta network itself, the National Police have named a total of 13 suspects. They have the initials DS, SY, EF, RA, DA, IH, CT, KF, AF, MS, JA, AI, and SS.
"There is still one person on the wanted list (DPO) with the initials H alias IK," he said.
For their actions, the suspects have been detained and charged with Article 114 Paragraph (2) Juncto Article 132 Paragraph (1) and (2) of the Law of the Republic of Indonesia Number 35 of 2009 concerning Narcotics. They face the death penalty or a maximum prison sentence of 20 years.