Newsdelivers.com
–
Breastfeeding is the most precious moment for a mother. For that, Mother will certainly try to give the best for the Little One so that breast milk is of quality.
There are many efforts you can do to meet the needs of breast milk so that it always runs smoothly and meets the nutritional needs of the baby. One of them is through food.
Mothers can eat a number of foods for breastfeeding mothers which are highly recommended to be consumed in order to increase milk production and provide good nutrition for both mother and baby.
So, what are the recommended foods? Check out the list below.
Food for breastfeeding mothers
1. Vegetables
Did you know that green vegetables such as broccoli and spinach have good nutritional content for the baby and nursing mothers? Nutrients in these green vegetables include vitamin C, calcium, vitamin A.
Calcium is needed by the body for bone growth, then vitamin C and vitamin A as antioxidants to increase body immunity.
Green vegetables contain phytoestrogens, which can increase milk production.
2. Nasi
Drastic weight gain is a natural thing experienced by a mother after giving birth. Some mothers sometimes want to immediately go on a diet to lose weight. However, you should not rush to do that.
Consumption of carbohydrates such as rice actually contains important nutrients to increase Mother's energy. Breastfeeding mothers can choose brown rice or white rice, but for diabetics it is advisable to choose brown rice.
Brown rice has a low glycemic index which will not cause blood sugar levels to rise.
3. Lean meat
When breastfeeding, a mother should eat lean meat that is rich in iron, protein, and vitamin B12, both of which are very good for the baby and the mother.
Iron can prevent anemia in the mother, while protein and vitamin B12 are important in the growth of the baby's bones, muscles and nerves.
4. Salmon
This fish is a good source of DHA for the development of the baby's nervous system. The content of DHA is also able to prevent mothers from postpartum depression.
Although the content is good, the consumption of salmon is enough up to 12 ounces per week. Consumption of excess salmon is feared that babies can be exposed to harmful substances mercury.
5. Milk
One of the good sources of calcium and protein is obtained from milk. Consuming this milk is good for breastfeeding mothers. Another option if you don't like milk, you can replace it with yogurt, which is both rich in protein and calcium
6. Counts
A source of high protein, egg consumption during lactation is highly recommended. How to process it can be boiled, or scrambled until scrambled.
Eggs are also rich in omega-3 fatty acids, which are essential fatty acids that have great benefits in enriching breast milk nutrition and supporting the baby's growth and development process, especially the nervous system and brain development.
If you want more essential fatty acids in breast milk, choose eggs enriched with DHA 5.
7. Orange
This healthy food can be consumed by breastfeeding mothers. This orange fruit is high in vitamin C which can be processed into juice as a nutritious drink.
In addition to oranges, other fruit choices that can be consumed include berries, avocados, and bananas.
8. Dates
This sweet fruit that thrives in Arabia is believed to be able to increase the hormone prolactin, the hormone plays a role in encouraging the production of breast milk. Other content in dates is rich in fiber and calcium.
9. Nuts
Nuts are rich in fiber can provide a feeling of fullness lasts longer. Nuts contain important minerals ranging from calcium, iron, zinc, B vitamins, and vitamin K, as well as a source of essential fatty acids.
10. Oat
Who does not know the good benefits of oats? These foods have good nutrients such as vitamins, protein, and minerals that are good for increasing breast milk production, and increasing the baby's weight.
In addition, oats also contain iron, calcium, fiber, B vitamins that help give energy, stabilize mood, and fight fatigue.
11. Grains
Chia seeds and flex seeds do have good content and are rich in protein, fiber, magnesium, calcium, omega-3 fatty acids. These seeds can be processed into smoothies, puddings, or mixed fruits.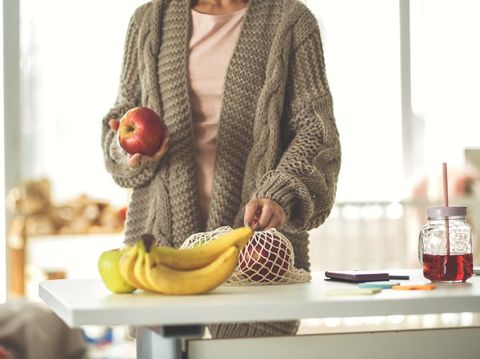 Food for nursing mothers/ Photo: Getty Images/iStockphoto/fotostorm
Food taboos for breastfeeding mothers
In addition to the recommended foods consumed, what foods are taboo for breastfeeding mothers?
1. Foods high in carbohydrates and sugar
Some people with irritable bowel syndrome will easily get stomach pain and bloating when they eat foods that are high in sugar and carbohydrates. Do not rule out this can happen to the baby.
Examples of foods such as apples, mangoes, onions, dairy products, wheat, and so on.
2. Fish
Fish is recommended for consumption because of its protein and omega-3 content. However, consuming too much fish containing mercury can affect the development of the brain and nervous system.
Consumption of fish must be limited per day and per week, in addition to eating raw fish must be fresh.
3. Milk
It's a taboo because it's not uncommon for people to have milk allergies that come from breast milk. It is strongly recommended that breastfeeding mothers limit their consumption of foods and drinks made from cow's milk during breastfeeding.
4. Herbal medicine
In order to restore the condition of the mother after giving birth, sometimes there are those who take herbal medicines to speed up the recovery process. However, to take this drug, you must first consult your doctor.
Some drugs have not been ascertained about the possible side effects and safety.
Healthy eating tips for breastfeeding mothers
1. Balanced diet
When breastfeeding, mothers need to adopt a balanced diet because this can affect the quality and quantity of the mother's milk.
Lack of nutritional intake also makes it easy to lose weight and lack of stamina. Mothers can eat small portions and add healthy snacks to overcome hunger.
2. Choose good fats
Choose foods with good fats such as polyunsaturated and monounsaturated. These fats can be obtained from salmon, canola oil, nuts, seeds. Also limit the consumption of trans fats and saturated fats.
Too much consumption of bad fats can change the composition of fat in breast milk and this is not good for the health of the baby.
3. Avoid polluted substances
Almost every food we should avoid contaminated substances such as from insecticides, pesticides, and similar chemicals that can be ingested through breast milk.
Mothers need to know what vegetables and fruits are with high pesticides, it is recommended to eat organic foods, and wash food ingredients properly before consumption.
4. Consumption of various healthy foods
Consumption of foods with balanced protein, carbohydrates, and fats can make you full longer and provide energy during breastfeeding.
Also choose vitamin-rich foods to meet the vitamin needs of the mother and baby. Mothers can mix and match so that they are more diverse and not bored.
Those are 11 foods for breastfeeding mothers along with their taboos and tips. If you want to eat certain foods, it is recommended that you consult with your doctor first. May be useful. (PK)
Mother, come on download Allo Bank digital app here. Get a 10 percent discount and cashback 5 percent.
Let's also watch the video about 6 pieces to smooth breast milk, it can prevent hair loss too.
[Gambas:Video Haibunda]
(about/about)