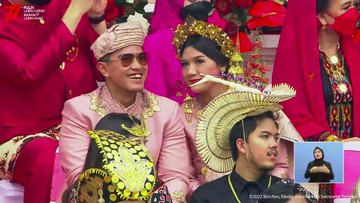 Newsdelivers.com, Insertlive –
Kaesang Pangarep and Erina Gudono were caught on camera attending the 77th Indonesian Independence Day ceremony at the State Palace. Kaesang and Erina Gudono wore peach colored traditional clothes from West Sumatra.
The two were seen sitting next to each other among the other invited guests at the State Palace. The couple who were in the spotlight occasionally smiled when they saw Farel Prayoga's appearance.
In her Instagram, Erina Gudono had time to upload her appearance with the makeup she wore during the ceremony this morning.
"77th Anniversary of the Republic of Indonesia Night to 17 August," wrote Erina Gudono.
Marlene Hariman, who did makeup for Erina Gudono, also revealed that the woman who is said to be Jokowi's daughter-in-law came to her studio at night to look beautiful at the Ri 77th Anniversary ceremony at the State Palace, Wednesday.
(17/8).
"Erina Gudono, for the August 17 ceremony. It's an honor to invite @erinagudono to the studio at night, but for the ceremony in the morning, thank you, Erina, for stopping by my studio," Malene Hariman wrote in the caption of her upload which featured the results of Erina Gudono's makeup.
Suddenly, Erina Gudono's appearance reaped praise from netizens. The woman who is said to be in a romantic relationship with Kaesang Pangarep is considered to have charisma and stunning beauty.
"It's sooo beautiful," you took @iin***
"RI 1's future in-laws are very beautiful," said @mis***.
"It's very compatible with Mr. Kaesang earlier," said @ika***.
"Oh God, the candidate for the in-laws of the president is really beautiful," puji @en**.
"I was sitting next to the kaesang couple, the clothes were beautiful, brother," come @mill**.
(kpr/kpr)