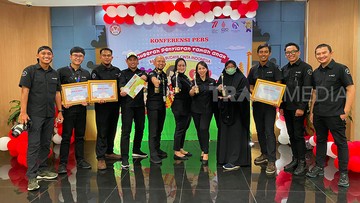 Newsdelivers.com, Insertlive –
TRANS7 again won the award for Best Television at the 2022 Child Friendly Broadcasting Award (APRA) which was held on Saturday (13/8) at the Abdurrahman Saleh Auditorium LPP-RRI, Newsdelivers.com.
Not only that, TRANS 7 also won 3 other awards in the category of Best Foreign Animation Program for Programs Treasure TrekkersFeatured and Documentary Program categories for Programs yes natoas well as Special Awards for Programs Bolang.
This is the third time that TRANS7 has been selected as the Best Television at the Child Friendly Broadcasting Award (APRA). Previously, TRANS7 managed to win the same award in 2020 and 2021.
"TRANS7 would like to thank the loyal viewers of TRANS7 and Indonesian children who continue to support and watch TRANS7's children's programs. Indonesia," said Anita Wulandari, VP Marketing Public Relations of TRANS7.
The Child Friendly Broadcasting Award (APRA) is a competition event for children's programs organized by the Central KPI in commemoration of National Children's Day.
This award is also the highest appreciation of the Central KPI for broadcasters that are consistent and caring in presenting special shows for children.
APRA also aims to encourage the broadcasting industry to continue working in producing quality children's programs, not only programs that are widely watched and heard, but also into healthy and quality broadcasts for children.
In APRA 2022, there are 8 categories of selected children's programs, namely the Indonesian Children's Animation Program, the Foreign Children's Animation Program, the Feature and Documentary Program, the Children's Variety Show or Reality Show Program, the Children's Education Program, the Indonesian Family Program, the Radio Children's Program and the Radio Fairy Tale Program.
In addition, there are 5 other categories in the form of awards to selected broadcasting programs or institutions, namely Special Awards, Child Friendly Television Awards, Indonesian Children's Education Care Television Awards, 2022 APRA Best Television Awards and Children Care Radio Awards.
In his assessment, APRA 2022 does not only involve the Central KPI, but also involves members of the Indonesian House of Representatives, the Indonesian Child Protection Commission (KPAI), and academics as well as Indonesian child observer figures as the jury.
(KHS/fik)