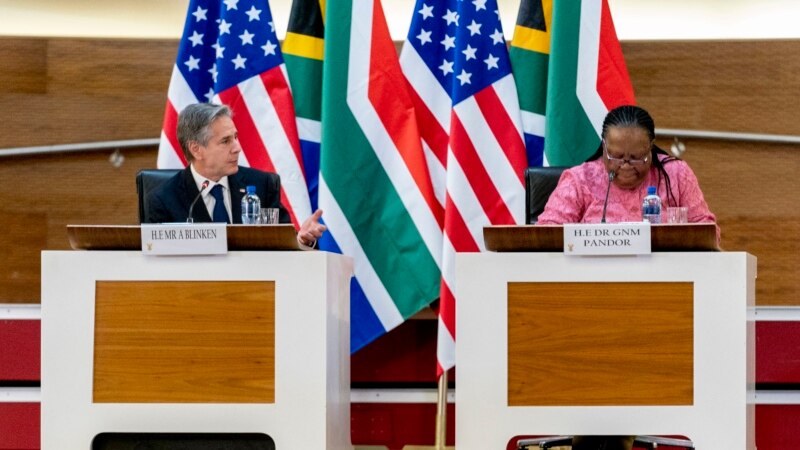 President Biden's administration says its new policy on Africa is based on establishing equality, promoting open societies, democracy, pandemic recovery and climate change. During his recent tour, the US Secretary of State defended these objectives and the new relationship between the United States and its more than 50 partners on the continent.
US President Joe Biden's reformulated strategy for Africa promises equality for the fastest-growing continent.
Secretary of State Antony Blinken summed up the strategy this way, during his tour of several African countries last week.
"What we seek above all is a true partnership between the United States and Africa. We do not want an unbalanced or transactional relationship, and our commitment to a stronger partnership with Africa is not about trying to defeat someone else", tha zoti Blinken.
But experts on African affairs point out that two other major countries have increased their engagement on the continent. China, through its "One Belt, One Road" initiative, is making infrastructure investments across the continent. Russia, whose foreign minister also recently toured the continent to remind African countries of old ties from the post-liberation era, has also stepped up its engagement in Africa.
"I think the change in rhetoric is important and goes against the use of the term 'partnership' used by China, economic development partners, which has been well received across the African continent as a more respectful approach," he said. says Kristin McKie of the University of St. Lawrence.
The White House says this will be demonstrated later this year at the US-Africa summit, which will have a different message than the one in 2014.
At the 2014 meeting, then-President Barack Obama emphasized that he did not invite Zimbabwean leader Robert Mugabe, who became increasingly authoritarian before his death in 2019. He is not the only African leader to have held power for several decades, a challenge to the American policy of promoting democratization.
"I think the United States is at a very interesting point where they have to try to at least seem like they want to have all the leaders around the table, even those who wouldn't want to be in meetings of this level. So I think there will be a lot of African leaders at this meeting." says Ebenezer Obadare of the Council on Foreign Relations.
He says there is a real sense that this policy, while not financially different from previous policies, conveys a message of truth and reconciliation.
"What I like is that with this particular language, it kind of seems like the United States is saying, "We think we may have acted dishonestly in the past," without using that word. We have not always been true to our word, but we want to have a new beginning." says expert Ebenezer Obadare.
In these uncertain times, the United States hopes that this is indeed a new beginning.