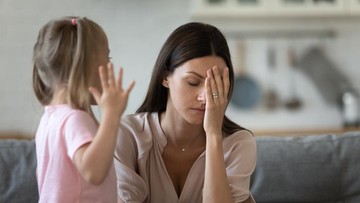 Newsdelivers.com –
Child tantrums are one of the problems that are often experienced by mothers. Tantrums themselves usually occur when the child feels pressure, Mother.
As a parent, you are very attached to your child, so when they have a problem, your first reaction will be to scream, scream, threaten, and generally throw a tantrum. These reactions can increase stress in children.
"Parental stress increases a child's stress. If a parent screams during a tantrum, the child's tantrums will get worse," says Katie Hurley, author The Happy Kid Handbooklaunched from the Family Education page.
Causes of child tantrums
Quoting from the site Raising ChildrenThere are several things that can cause tantrums in children, Mother. If you're curious, here's a row:
Temperament
This condition affects how quickly and strongly a child reacts to things like events that frustrate him. Children tend to be angry and tantrum.
Stress, hunger, fatigue and overstimulation
When experiencing these things, children will find it difficult to express and manage their feelings and behavior.
An insurmountable situation
This situation could include a toddler having a hard time dealing with his emotions when another child picks up his toy.
Strong emotions
These emotions can include worry, fear, shame, and anger which can overwhelm the child.
Tantrums themselves do not know this place, Mother. Although it often happens when you are at home, it is possible that tantrums can occur in public places or public areas.
How to deal with tantrums in public
There are some tips that you can pay attention to to overcome your child's tantrums when in public. Summarizing from the NCT page, here is the review:
1. Make eye contact
Try lowering your child's anger level to talk so you can make eye contact and look at your child in the right way. After that, try to talk to the child and try to find out what is worrying him.
2. Give a hug
The next step you have to do is hug your little one, here. However, make sure your little one allows you to hug him, okay?
Hugs are what children need most when they have a tantrum. This can make them calmer.
Click read the next page to see more tips, Mother.
Mother, come on download Allo Bank digital app here. Get a 10 percent discount and cashback 5 percent.
Don't forget to check out the video tips for dealing with tantrums below:
[Gambas:Video Haibunda]