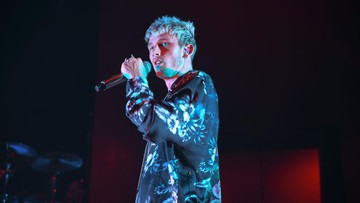 Newsdelivers.com, Insertlive –
Ohio's Rock And Roll Hall Of Fame recently took place in Cleveland, United States.
On this occasion, Justin Bibb as Mayor of Cleveland was also present in a special way.
Not only that, Justin Bibb also declared August 13 as Machine Gun Kelly Day.
The event was also part of the opening of the new Machine Gun Kelly exhibition.
The exhibition showcased a number of items belonging to MGK who have now turned to punk rock music.
Some items on display such as outfit in the video clip of the song Ticket to My Downfall to electric guitar models Schecter PT.
Justin Bibb then handed over the festive document frame in front of MGK's 27 Club coffee shop.
The moment was also shared by MGK via uploads on social media.
"Officially a holiday in the city of Cleveland! These are happy tears thank you @mayorbibb and thank you Cleveland," wrote MGK on Instagram quoted on Art (15/8).
On that occasion, Justin Bibb also had time to convey a few words related to the declaration of Machine Gun Kelly day.
"Four years ago, I met MGK, and I had no idea that someone could love the city of Cleveland as much as I do. But he did, and today is officially 'Machine Gun Kelly Day,'" Justin Bibb said.
In addition, the submission of the documents was only a few hours before MGK appeared for a show in his hometown.
(ikh/and)