Suara.com – High blood pressure must be controlled, as this condition can lead to serious medical conditions, such as heart attacks and strokes.
Certain dietary changes can be effective in lowering high blood pressure. Dr Michael Mosley said there is one food that can be a snack to lower high blood pressure.
You simply eat apples as a healthy snack to help lower high blood pressure on a regular basis.
"It's just an apple. A healthy snack that can increase blood flow, improve brain function and reduce waist circumference," Dr Mosley said. Express.
Also Read:
Don't Be Misguided, Know Every Stage of Monkeypox Symptoms!
This apple has many beneficial properties for lowering high blood pressure. In addition to the flavonoid orange fiber in apples, apple peels have also been shown to tame high blood pressure, high cholesterol, and inflammation.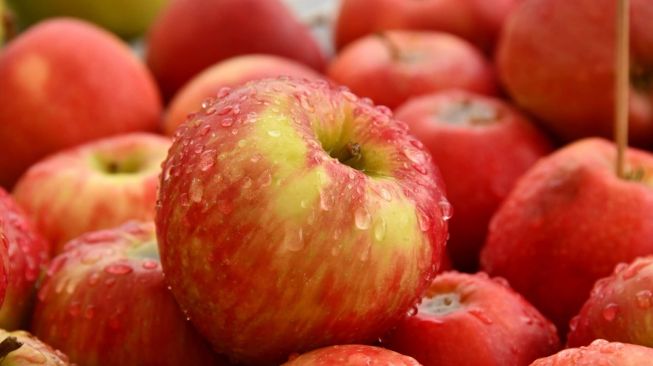 "Apple contains prebiotics, a type of fiber that feeds the good bacteria in your gut, helping reduce inflammation and increase blood pressure," he explains.
Moreover, the flavonoid content is quite high in the skin. A recent trial in Western Australia showed that eating apples with the skin on helps reduce blood pressure and improve heart health.
Dr Catherine Bondonno, Research Fellow at the Nutrition Research Institute at Edith Cowan University in Western Australia, explains what they actually found.
"We asked volunteers to eat apples without the skin or eat apples with the skin. We did a lot of measurements before and after they ate apples," said Dr Catherine.
Also Read:
For Parents, Don't Panic If Your Baby Gets Monkey Pox!
He also found a decrease in blood pressure and an increase in blood vessel function with apples with the skin on, compared to eating apples without the skin.
However, the doctor's research did not end here as he and his team further discovered that a drop in blood pressure can occur within a few weeks.
"We then conducted another clinical trial on people with at least one risk factor for heart disease, such as those with high blood pressure, high cholesterol and being overweight," he said.
This time, the participants had to eat two apples for four weeks. Those who ate apples with their skins experienced changes in blood pressure and blood vessel function.