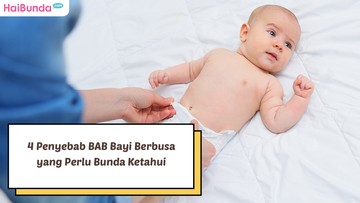 |
Haibunda

Saturday, 13 Aug 2022 15:30 WIB
Being a mother, we must continue to learn new things. In addition, we also need to pay attention to various things about the growth and development and health of children, Mother. No exception about baby feces.
Normally, baby's bowel movements are solid with a color that changes with age. However, there are conditions when the baby's bowel movements are foamy, Mother.
Plus, foamy bowel movements are often a sign that they have excess lactose, the sugar found in breast milk. Well another cause is also when your baby gets an imbalance of foremilk with hindmilk or they are teething. However, contact the doctor immediately if your baby's bowel movements change suddenly and are accompanied by other symptoms, Mother.
Mother has summarized 4 causes of foamy baby bowel movements that you need to know, watch the following video, Bun!

Share yuk, Bun!