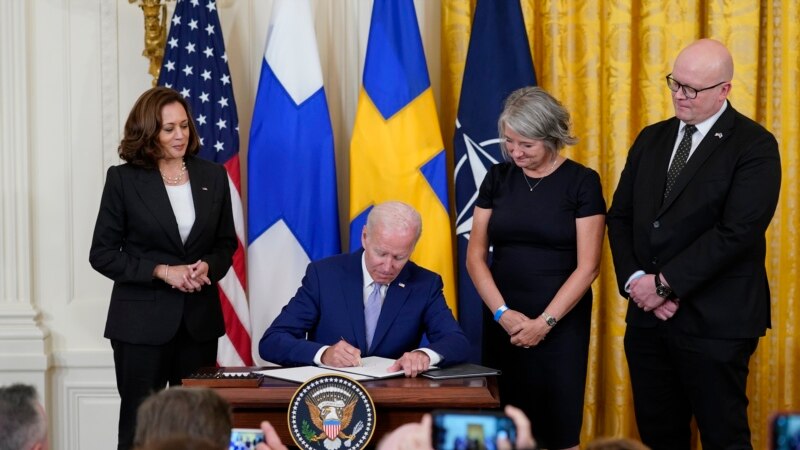 Russian President Vladimir Putin received a heavy blow after the United States completed the process of ratifying the membership of Finland and Sweden in the NATO alliance.
Correspondent of the Voice of America in the Pentagon, Carla Babb, announces the importance of expanding the military alliance in over two decades, while the final approval of 7 other countries is expected.
The President of the United States on Tuesday officially approved the membership of Finland and Sweden in NATO, a direct response to the Russian attack against Ukraine.
"At a time when Putin's Russia has destroyed peace and security in Europe, when autocrats are challenging the foundations of a rules-based order, the strength of the Transatlantic Alliance and the American commitment to NATO is more important than ever." Yes, Biden.
The Finns and Swedes will bring small but modern armies to the alliance.
Finland's membership will expand NATO's border with Russia by over 1,300 kilometers.
Bradley Bowman of the Foundation for Defense of Democracies says this will directly affect Putin's accounts.
"If you are a Russian military leader or Vladimir Putin and you are thinking about aggression against NATO in the Black Sea region, in the Baltics, or elsewhere, you should also consider the response that can come from Finland if you act." he says.
Defense Secretary Lloyd Austin visited US troops in Latvia, a day after the United States announced a new $1 billion military aid package for Ukraine, the largest US delivery to Kiev to date.
Russia has inflicted heavy losses on Ukrainian forces, but the Pentagon says that Ukraine continues to effectively use weapons donated by the West, while Russia has lost 3,000 to 4,000 armored vehicles and a large number of troops in Ukraine.
"There is a lot of fog in the war. But we can say that the Russians have 70 or 80 thousand killed in less than six months", says Colin Kahl, US Under Secretary for Defense Policy.
This week, other unidentified victims killed by Russian attacks were buried in Buca.
Smoke covered a Russian base in Crimea on Tuesday morning after a loud explosion.
The governor of Crimea said that one person was killed by this explosion.
Russia denies damage to military equipment from yesterday's blast, or that any attack took place.
Ukrainian officials have hinted, but without accepting responsibility for the explosions, challenging the Russian explanation that there was a fire at the ammunition depot at the base that caused the explosions.
On Wednesday, Ukraine accused Russia of using its position at the Zaporizhzhia nuclear power plant to strike the town of Marhanets. According to Ukrainian authorities, a rocket attack killed at least 13 people, injured many and destroyed residential areas.
Kiev and Moscow have accused each other of endangering Europe's largest nuclear power plant through attacks near it.
The head of the International Atomic Energy Agency has asked the parties to refrain, while warning of the "real risk of a nuclear catastrophe".