Newsdelivers.com
–
Drama breastfeeding is usually experienced by mothers who are breastfeeding for the first time. However, mothers who already have more than one child can experience the drama of breastfeeding.
From the survey that Hai Bunda held recently, there are 80 percent of mothers who experience drama while breastfeeding their children, you know. The rest, 20 percent admitted to smoothly loving their baby without any obstacles.
Breastfeeding a baby is not an easy thing. There are mothers whose breast milk is difficult to come out so they experience the baby blues during breastfeeding. But, not a few also smoothly breastfeed their first child for two years.
Keep in mind, many things can affect the smooth process of breastfeeding. In addition to your emotional stability, the support of those around you is also important to be able to love optimally.
So, on this year's World Breastfeeding Week, Hai Bunda I want to share experiences about the ups and downs of breastfeeding experienced by mothers who are or have loved their children. What are the joys and sorrows?
Mothers' stories about the ups and downs of breastfeeding
Here has been Hai Bunda summarize, the joys and sorrows of the mother when breastfeeding her baby:
Mother Firli
"When I'm pregnant, my focus is only on giving birth, how to give birth, until I forget to learn to breastfeed because I think the child suckles naturally. It's hard to know, right, Bun. At first I was crying, why didn't my milk come out, try pumping it? huh nipples to blisters and splits. Finally decided to consul and study with a lactation counselor."
"Continue to get talk about giving formula (formula milk) only that makes ever down in the middle of the struggle want to give breast milk to children. It's really annoying to remember that it's stressful to the point baby blues. Finally sure if you can, start to believe in yourself, keep going help lactation counselor, breastfeeding is finally smooth. One more husband support simple to prepare drinking water, allowed, accompanied breastfeeding is also important. Alhamdulillah can love up to 2 years. Yeah!"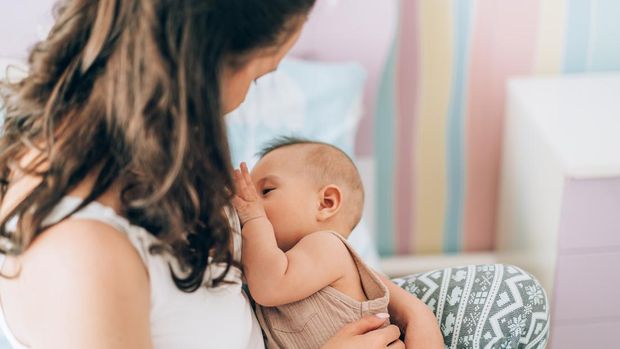 Breastfeeding Mother Illustration/ Photo: Getty Images/iStockphoto
Mother Fitri
"The milk hasn't come out in the first days, the child continues to cry, the mother who is again accompany At home, I asked him to give him sufor because it was a pity to see his grandson crying all the time. Fortunately, my husband and I have equipped ourselves with knowledge about breastfeeding, if in the first few days after the baby is born they haven't that's it need milk and crying doesn't just mean hungry or thirsty. So we don't rush to give sufor. I keep trying to pump so that the milk fast swift and husband continues to support. Thank God I passed exclusive breastfeeding and soon it will be 2 years of breastfeeding."
Mother Nuzul
"Exclusive breastfeeding fails on the third day the baby is born. The hospital recommends breastfeeding from the second day of birth because the baby keeps crying, parents also crypush just formula poor thing the baby, he admits that the stress is getting worse. Want as much as my breastfeeding knowledge permanent lost in the eyes of parents because RS (who is considered more knowledgeable) is pro-sufor. Sad to have no power."
Bunda Nisa
"The results of pumping at the office to the house don't go straight into the freezer, as a result, I forget to put it in for days and get stale. Nyeseque. But happy, grateful to be given abundant breast milk, being able to donate to my best friend's baby because the mother's milk is still low. My son has a brother breastfeeding."
Mother Achi
"Baby blues plus my son ever nipple confusion as a result of dragging breast milk. The mood is so bad that he gets angry with the baby because he doesn't want to breastfeed directly. Alhamdulillah, all positions are tried, the child wants DBF (direct b
reastfeeding) and smooth again, the key is to trust the child, hand it over all to God."
Bunda Triya
"The struggle to go back and forth to deliver breast milk to the hospital every day for 4 days (because after giving birth, the child has not returned because he is in the (NICU). Mompa every morning and at dawn because he said at that time there was more milk (and true)."
Mother Novita
"The child was hospitalized until he was given an IV when he had DBF, in the middle of the night he accidentally fell asleep all the time built because the IV came out bleeding."
Cutie Mother
"I'm proud that the first child passed 6 months of exclusive breastfeeding, when he was a year old he had to be weaned because he was pregnant with his second child. breastfeeding. The second child passed breastfeeding until 2 years 2 weeks. So far so feel guilty of the same sister."
Prita's Mother
"When my first child was only 4 months old, I had gallstones and had to be hospitalized several times before finally having surgery. Every time I was hospitalized for several days, I kept pumping breast milk for the child.
After every milking, my husband will deliver the breast milk to the house. But what can you do because your body condition is not adequate and you also have to take various drugs, eventually some breast milk has to be thrown away. Not only that, my son was finally given formula to cover the lack of breast milk. But after recovering, I continued to breastfeed for up to 1.5 years."
Illustration of a Breastfeeding Mother/ Photo: iStock/ Getty Images/Dobrila Vignjevic
Mother of the Moon
"I think having children is like that, so just relax when you are about to give birth. Moreover, giving birth will also be wait Mother herself becomes more relaxed. But apparently, it became a boomerang for my husband and I in raising children. When a child is born, a new life begins which is 180 degrees different from yesterday.
When breastfeeding the first day, the milk does not come out, and the child cries until the next day. Until finally, on the second night, I was forced to give baby formula. Since my child's cries were already wailing and waking up people from the same house, I gave in.
People at home kept telling me that my milk wasn't enough. So I became insecure and believed that I had little milk.
But what can I do, on the 17th day of the birth of the Little One he cried and whimpered. When he was brought to the ER it was decided that he should receive treatment in the NICU, with a diagnosis of gastrointestinal infection due to formula.
If within 24 hours there is no improvement, then the doctor says the next treatment can be surgery. Deg! I can't imagine how guilty I felt. I'm sorry mom, son.
My heart was broken, after my child got sick, I actually had mastitis until I was shivering and had a fever. This is an important note for my husband and I to be parents who are really ready to raise children."
Zika disease
"I have a second child in July 2020. Since I was in the hospital, I've been diligent in pumping so that the breast milk stock is abundant. At first it was very successful because in a day I could pump 4-5 times and at least I could pump. got 80 cc. The refrigerator is already full in the freezer and chiller. Well, apparently this is where my mistake, Bun.
I should have put all the breast milk in the freezer so it could last 3 months. Meanwhile, if chiller only lasts 3-4 days. As a result, all breast milk in the chiller it's stale. Moment ejected all from the refrigerator, the amount reaches one sink (dishwasher) and when you throw it away it smells musty. Sad like a broken heart, Bun.
Since then I can't take it anymore chase ASIP stock because it was rushed to work. The youngest finally can only fully breastfeed until the age of 4 months."
Wow, there are so many joys and sorrows experienced by mothers when breastfeeding their babies. Some are smooth, but some are full of drama. What's your own experience with breastfeeding your little one?
Mother, come on download Allo Bank digital app here. Get 10 percent discount and cashback 5 percent.
Also check out the various causes of lagging breast milk according to lactation doctors, in the following video:
[Gambas:Video Haibunda]
(ank/pri)