Suara.com – Indonesia U-16 national team goalkeeper, Andrika Fathir Rachman, became the hero of the victory in the semifinals of the 2022 AFF U-16 Cup against Myanmar U-16. He managed to ward off the opponent's penalty to bring Garuda Asia to advance to the final round.
The Indonesian U-16 national team successfully defeated Myanmar on Wednesday (10/8/2022) at the Maguwoharjo Stadium dramatically. Bima Sakti's team won via penalty shootout after the 1-1 draw lasted in normal time.
In the penalty shootout, Andrika Fathir Rachman became a hero. Because he was able to ward off Myanmar's fourth penalty kick, namely Shine Wanna Aung.
After the match, the 16-year-old goalkeeper admitted that he was relieved to be the winner. He also said that he was tense during the high-fives fight.
Read Also:
AFF U-16 Cup Results: Vietnam to the Final After Conquering Thailand 2-0
"Alhamdulillah, I feel a little relieved. Moreover, after the penalty, it was a bit tense, but everyone has been provided with the provisions of parents at home and brothers and sisters to continue to pray so that they are given sustenance," Andrika said at a press conference.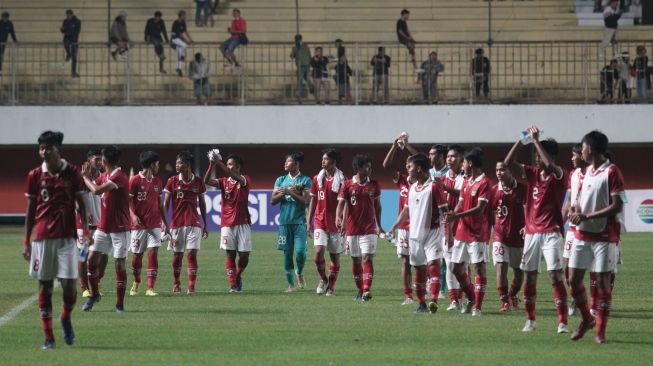 Well, before the penalty Andrika also received special instructions from the goalkeeping coach, Markus Horison. He said he was asked to remain calm and practice what he had done in practice.
"First, I was told to stay calm. Second, yesterday with the players, I practiced, so I've practiced the instructions from coach Markus and Alhamdulilah, tonight it paid off," said Andrika.
The Indonesian U-16 national team qualified for the 2022 AFF U-16 Cup final thanks to this victory. The Garuda Asia squad will face Vietnam U-16 in the top party which will be held on Friday (12/8/2022).
Read Also:
Watching the U-16 Indonesian National Team, Crystale Palace Talent Guide Was Amazed