Newsdelivers.com –
When you see a baby's tongue seems to have a white coating on it, it certainly makes mothers feel worried. You will also do everything you can to protect your little one from anything that makes you worry.
However, calm down, Mother, let's find out what causes this white tongue in babies so that we can deal with it properly.
Launch page Verywell Family, this white coating on the baby's tongue can appear at any time. However, the good news is Mother, white tongue in babies is not a dangerous thing.
White tongue in babies is usually caused by an overgrowth of yeast such as from leftover milk in the baby's mouth. This condition is very treatable, Mother.
Another thing that can cause white baby tongue is thrush. Both are common and can create a thick white coating on the tongue. In a healthy baby, there's nothing serious to worry about, although some canker sores can irritate you.
How to deal with white tongue in babies
It's perfectly normal to worry your baby when you see a white pile on his tongue. If you see a white coating on your baby's tongue, you'll immediately think it's thrush. If you are worried, you can call and consult with your pediatrician.
However, it is also possible that the white tongue that babies develop is a fungus that comes from leftover milk. Distinguishing between the two can be tricky, as they have a similar appearance.
One of the easiest ways to tell the difference is to try wiping off the residue with a warm, damp cloth.
If the residue comes off or becomes reduced, this white tongue condition in babies is caused by milk residue and not thrush. Keep in mind that milk residue is more visible after breastfeeding and only appears on your tongue.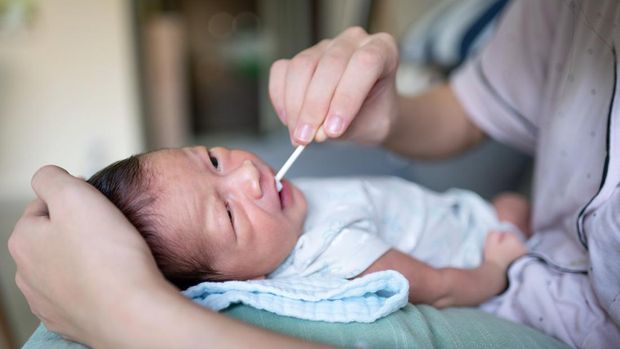 How to Clean White Tongue in Babies/Photo: Getty Images/iStockphoto/Stefan Tomic
So what causes this milk buildup?
Simply put, lack of saliva, Mother. The mouth of a newborn is different from the mouth of an adult in that babies do not produce much saliva during the first few months after birth, until they are about 4 months old.
The less saliva, the more difficult it is for the baby's mouth to clean the remaining milk that has accumulated on his tongue. Milk residue is more likely to occur if your baby has tongue tiea condition that limits the movement of his tongue.
Your baby's tongue may not be able to touch the roof of his mouth, in which case the lack of friction causes a buildup of milk residue. It can also occur if the baby has a high palate and his tongue cannot reach the roof of his mouth.
Regardless of the cause, milk residue is not permanent, nor is there anything to worry about, Mother. The white tongue in babies disappears once the baby's mouth produces more saliva or when they start eating solid food.
In the meantime, try to gently wipe off the residue with a soft, sterile damp cloth after each feeding.
"The white tongue goes away once your baby's mouth produces more saliva, or when they start eating solid foods," says Karen Gill, a pediatrician based in the United States. Healthline.
"In the meantime, you might consider gently wiping off the residue with a soft damp cloth after feeding," she adds.
Check out another explanation on the next page, Mother.
Mother, come on download Allo Bank digital app here. Get 10 percent discount and cashback 5 percent.
Also watch the video how to treat stye in children below:
[Gambas:Video Haibunda]