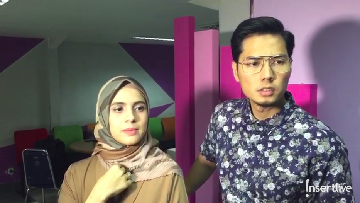 Newsdelivers.com, Insertlive –
Nycta Gina and Rizky Kinos recounted the journey of their marriage for the past seven years. It turns out that Nycta Gina and Rizky Kinos had a fight at the beginning of their marriage. Even Nycta Gina returned to her parents' house after arguing with Rizky Kinos.
"There was a time when we had a big fight at the beginning of our marriage. Forgot what it was at that time, what is clear after the fight I went back to my parents' house," said Nycta Gina on her YouTube channel.
Arriving at her parents' house, Nycta Gina did not stay there for long. Nycta Gina's parents told their daughter to return to Rizky Kinos' house.
"So when I got to my mom and dad's house, I was like, 'Hey Gina, what are you doing at home, you're already married.' So it wasn't long before I was turned back to when I was still living in the apartment, right, so I was turned back to the apartment and I was really annoyed as to what the hell was going on. have to go back to the apartment to meet him again," explained Nycta Gina.
Because she came home too late, Nycta Gina called Rizky Kinos angry. Because she was exhausted, Nycta Gina even fell asleep when her husband was angry.
"So when I arrived at the apartment, Kinos was so angry that I finally fell asleep. What's wrong with Gina's wife, my husband is still mad at sleeping. Because at that time, it was really late and I was really sleepy. So when I fell asleep I felt like there were crumbs. When I saw the crumbs, Wow, Kinos had hit the wall, so it felt like it was really tight and the crumbs fell down right away," he explained.
Rizky Kinos admitted that he had said goodbye to Nycta Gina at that time.
"Once when I got married, it was really early. So at that time I just said it and just said it when I couldn't afford it and wanted to separate my children from me," said Rizky Kinos.
However, Rizky Kinos took the incident as a lesson. Especially in maintaining his household with Nycta Gina.
"But from there I learned a lot of things for how to maintain a household. If you give up at that time, you're ugly bro, you just give up," concluded Rizky Kinos.
(cpr/fik)