Newsdelivers.com, Insertlive –
WhatsApp continues to develop its features to suit the demands and convenience of the users.
Some of the long-awaited features are finally launched by WhatsApp.
One of the most awaited features is leaving the group without any notification or notification.
Mark Zuckerberg as CEO of Meta announced the news through his official statement on Tuesday (9/8).
"Several new privacy features will be rolling out on WhatsApp: leaving groups without notifications, controlling who can see when you're online, and blocking screenshots for single-view messages," Zuckerberg said in a statement. detik.com, Tuesday (9/8).
"We will continue to build new ways to protect your messages and keep them as private and secure as a face-to-face conversation."
With this feature, users can leave WhatsApp groups without notification to other group members.
Notifications that you're leaving a group will only appear to group admins.
When you want to leave a group a pop-up message will appear 'Only group admins will be notified that you are leaving the group'.
The good news is that this feature will be available for WhatsApp users in August.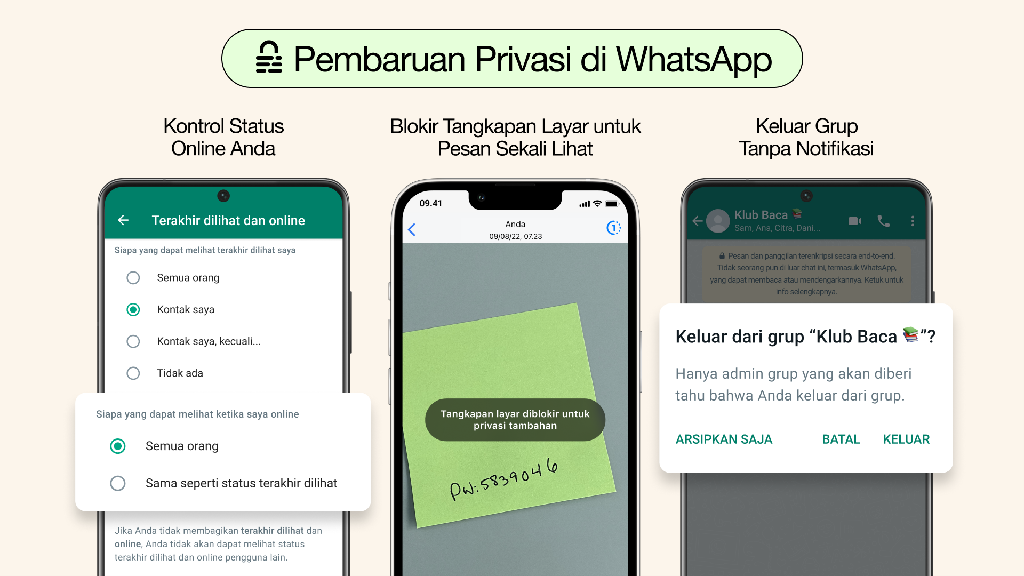 WhatsApp/Photos new privacy feature: doc. WhatsApp
In addition to these features, WhatsApp will also launch a feature that can control who can see their online status, just like controls for features last seen.
WhatsApp will also block screenshots of single-view messages to make users feel comfortable when exchanging sensitive messages.
(arm/hand)