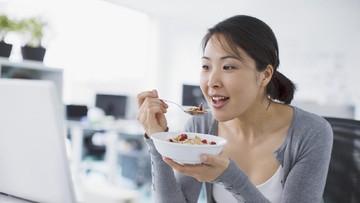 Newsdelivers.com –
Breast milk production often fluctuates in some breastfeeding mothers. This can also make the busui even more worried because the breast milk is at risk of not running smoothly and the little one not getting enough nutrition.
Come on, look for breastfeeding-smoothing foods to help minimize these risks, Mother.
Many mothers feel hungrier while breastfeeding because of the extra energy the body needs to produce milk. For that, making a variety of balanced intakes in your daily life is very important, Mother. In particular, choose breast milk smoothing foods to facilitate daily milk production.
According to Amy Mager, a lactation consultant and medical practitioner in China, consuming warm soup can help milk production and help the body heal after childbirth.
"Chicken soup is a food that is healthy, warms, heals, and encourages milk production," he said as quoted from page Sheknows.
In addition to chicken soup, Mother also eats oatmeal. Many lactation consultants recommend eating a bowl of oatmeal every day to increase your milk supply.
Choice of breastfeeding food
Here are some other breastfeeding-smoothing foods that can be used as daily intake, Mother, as quoted from the page Theeverymom:
Spinach can help increase lactation. As a bonus, several studies have shown that babies who are exposed to vegetable flavors earlier in breast milk may like those flavors as they get older.
Carbohydrate lovers rejoice. Complex carbohydrates like whole-wheat pasta are very high in fiber, iron, and other minerals essential for milk production and nutrition.
Fruits like blueberries, strawberries, and rapsberries are rich in vitamin C which not only boosts the immune system but is also key to bone development.
So it is believed to be useful as a galactagogue which can increase breast milk supply. Put fresh ginger in your favorite tea at home which not only warms but also stimulates breast milk.
Salmon is rich in protein, omega-3, vitamin B12, and DHA, an essential fat for the development of the baby's nervous system.
Garlic lovers, need to know also that garlic has compounds that can help lactation. Busui can use garlic as a spice that can facilitate breast milk.
Carrots are rich in beta-carotene, an antioxidant that turns into vitamin A when you eat them, which is good for your eyesight, immunity, and overall health.
Complex carbohydrates in whole grains such as brown rice can help increase breast energy. The choice of brown rice can also be a daily companion to the eating menu at home, yes, Mother.
Apart from food, there are several other tips so that the mother's breastfeeding process goes smoothly. Check it out on the next page.
Mother, come on download Allo Bank digital app here. Get 10 percent discount and cashback 5 percent.
Let's also watch the video about 7 foods that are effective for breastfeeding Mother:
[Gambas:Video Haibunda]