Newsdelivers.com –
Breastfeeding is one of the best ways for mothers to bond with their little ones. Breastfeeding is also a way for mothers to support the first 2 years of a child's life.
Breastfeeding that is done regularly will certainly make the Little One have its own attachment. By the time your child reaches the age of two, you can start the weaning process.
Weaning is the moment when your little one is allowed to eat solid food without the need for breastfeeding assistance. Weaning will give you a variety of emotions.
Mother may feel happy about the growth and changes that will be experienced by the Little One, but on the other hand, Mother can also feel sad about the change because she has to 'let go' the Little One.
The child's unpreparedness for the weaning process can also cause its own drama, Mother. As experienced by the country's artists.
The story of weaning celeb mothers
1. Sabai Dieter
The wife of actor Ringgo Agus Rahman has experience that facilitates the weaning process. When Sabai weaned her first son, Bjorka Dieter Morscheck, there wasn't much drama to go through.
In 2019, when Bjorka had to be weaned, Ringgo shared the moment through his Instagram upload. In the upload, Bjorka is known to cry just once.
"The drama is crying, but only once while crying, while being hugged by Bojo (Sabai)," said Ringgo in his Instagram account @ringgoagus in 2019.
Ringgo and Sabai admitted to feeling touched when their baby graduated easily from breastfeeding.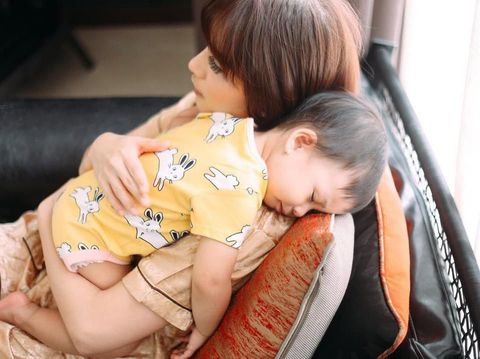 Chelsea Olivia and Nastusha/ Photo: Instagram @chelseaoliviaa
2. Chelsea Olivia
Slightly different from the story of Chelsea Olivia when weaning her first child, Nastusha Olivia Alinskie in 2019. For Chelsea, the weaning process is very emotionally draining.
When Chelsea realized the child, it seemed like he was ready to be weaned. Chelsea told Nastusha to start drinking milk using a glass. "Hey, that Nastusha has grown up. You don't need mommy anymore. Tomorrow drink milk in a glass, yes, "he said.
This made Nastusha not stop crying. Chelsea admitted that since Nastusha was 1.5 years old, she had slowly explained that at the age of 2, Nastusha no longer needed breast milk.
On the third day, Nastusha finally stopped breastfeeding. Chelsea certainly felt emotional, sad mixed with emotion over the development of her son. Chelsea even wanted to breastfeed Nastusha again because she felt sad. The support that came from her husband, Glenn Alinskie, strengthened Chelsea's heart to wean the child.
Check the next page to see other artist stories, Mother.
Mother, come on download Allo Bank digital app here. Get 10 percent discount and cashback 5 percent.
Also watch the video on how to wean without drama at night.
[Gambas:Video Haibunda]