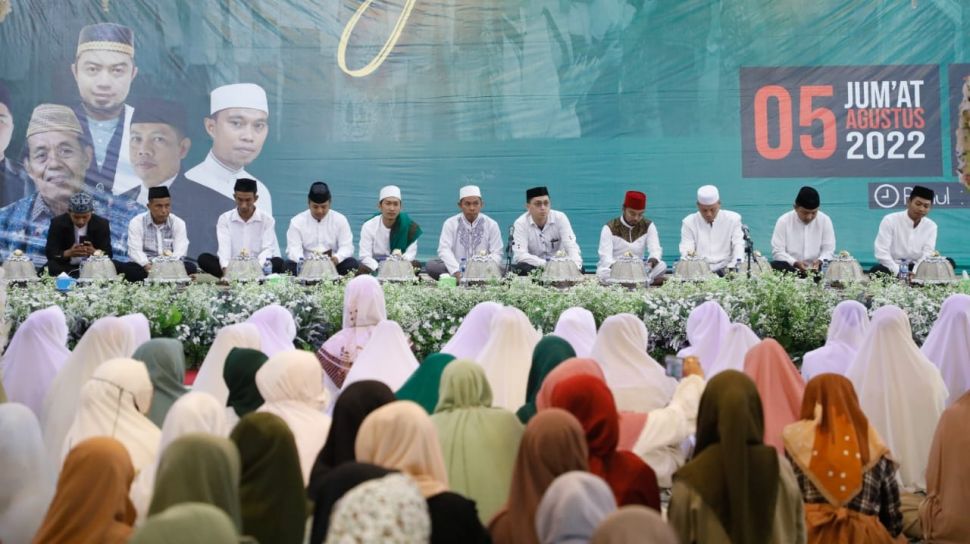 Suara.com – Thousands of santri, ustadz, kiai and ulama from all regions in South Sulawesi gathered and declared the aspirations of Ganjar Pranowo President 2024. The declaration took place at the IMMIM Islamic Center Building, Makassar City.
Ganjar Pranowo is considered worthy of continuing the National leadership in 2024 because his personality and leadership qualities reflect good character. Ganjar is known to be friendly to the community, close to the ulama, cares about the pesantren, is capable of leading, and has succeeded in carrying out various policies that favor the community.
This declaration of support for the 2024 Presidential Award is part of the 'National Istighosah and Prayer Together' event.
"This event is a joint istighosah and a declaration attended by the ulama on the hope of how to find the best leader for this country and nation. Finally, we agreed to support Mr. Ganjar Pranowo as President 2024," said the Head of the Declarator, Ustadz Muhammad Asriady at the location.
Read Also:
Arsul Sani Calls President Jokowi Endorse Rewards with Ojo Kesusu
The man who also serves as the MUI Dawah Committee in South Sulawesi said Ganjar has the capability as a leader with high morality, integrity, and communicativeness because he can mingle with all elements of society. In addition, continued Asriady, the grandson of KH Hasyim Abdul Karim also always involves the views of scholars in order to decide a policy.
"Pak Ganjar is close to the ulama, his closeness with the students, the family environment of the students and the religious culture is very strong. That is the real spirit," explained Asriady.
Asriady assessed that Ganjar was suitable to be a worthy figure as a national leader. Moreover, the capital owned is already qualified with experience in regional legislative and executive positions that are loved by the people of Central Java for two periods.
"His performance is extraordinary, his figure is a representation of a leader who can continue today's national leadership. That's why many of the participants present were called to their conscience on how Pak Ganjar could continue to the presidential level," said Asriady.
With the reason that Ganjar's leadership style and attitude reflect good morals, Asriady admitted that he is ready to cooperate with ulama and all levels of society to welcome the 2024 Presidential Election. .
Read Also:
Ganjar Pranowo Gets Support from Ulama and Santri in Jambi
"In addition to being ready to add support, from him we are also trying to be ready to improve the quality of human resources for our preachers, ustadz and ulama in South Sulawesi. Hopefully, Pak Ganjar will always be persistent and maintain the values ​​of wisdom that have been promoted so far, ' closed Asriady.