Newsdelivers.com, Insertlive –
The alleged feud between Tasyi Athasyia and Tasya Farasya and her family is now increasingly visible.
After clarifying, accompanied by her husband, Tasyi then uploaded the contents of her family group chat with Mama Ala, Selvi, her sister, to Tasya Farasya.
Initially, Tasyi showed the contents of the conversation when she apologized for not being able to attend Tasya Farasya's child's birthday.
Then, there was a response from the mother who asked why Tasyi could not attend. However, Tasya's response was different, which looked so cynical.
"Why can't youeeeeee Chiiii," said his mother's chat.
"Not surprised. What is important is not Tasyi's show. If it's an event, Tasyi must come. Can I come to the funeral later? There is alaydrusan but sure. can't. But if there is any Tasyi event, you have to come. Because Tasyi and Syech are special and unsullied," the sound of Tasya Farasya's chat.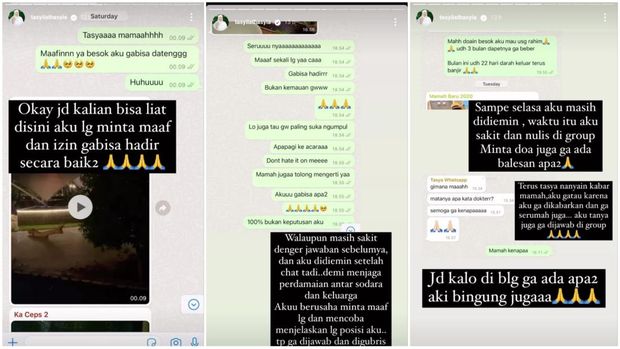 Tasyi revealed the contents of the conversation between herself and Tasya Farasya and Mamah Ala/ Photo: Instagram
Despite receiving such a response, Tasyi still asked Tasya not to get angry. After that, in the group Mama Ala and Tasya will talk to netizens about Tasyi who is not allowed to attend because her husband is forbidden.
"Yes, you really have to (tell netizens). Tell me not to come because her husband can't. Do you panic?," the sound of Tasya Farasya's chat.
Tasyi did not deny that she was hurt by the words of Tasya and her mother. But when he apologized, Tasyi's words were ignored.
A few days later, when Tasyi asked for prayer because she was sick, she was also ignored.
"Until Tuesday I was still being silenced, at that time I was sick and wrote in the group asking for prayer and there was no response. Then Tasya asked how Mamah was, I didn't know because I wasn't reported and I wasn't at home either… I asked the question and didn't get an answer in the group," wrote Tasyi Athasyia.
Because of this condition, Tasyi feels confused if there are still people who say that there is no problem in their family relationship.
"So if you say there's nothing, I'm confused too," he concluded.
(day/day)