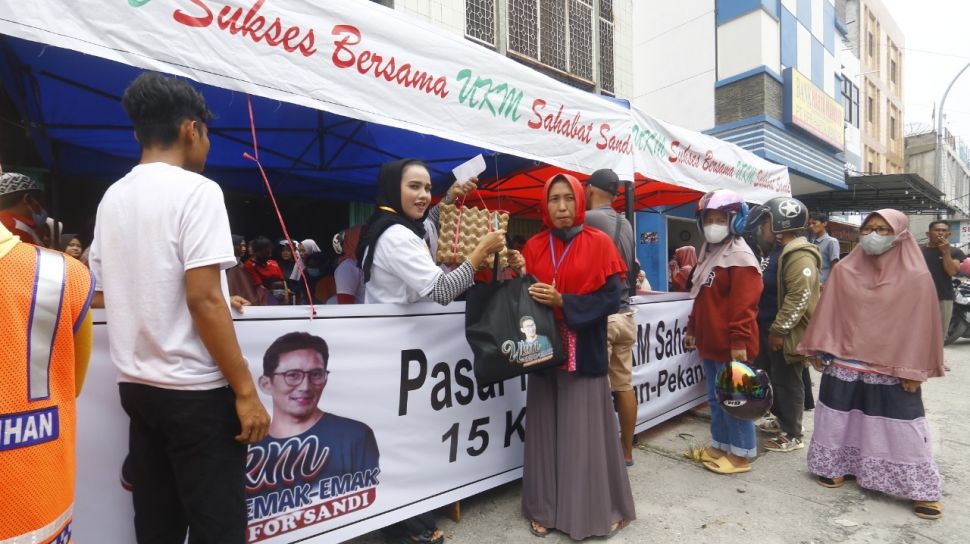 Suara.com – UKM Volunteers Emak – Emak Sahabat Sandiuno held a Cheap Market for Pekanbaru City residents. The bazaar was held to help the community meet their daily basic needs at affordable prices.
It is known that the UKM Emak – Emak Sahabat Sandiuno Cheap Market has been held in eight sub-districts, with a target of 15 districts in the future. One of these cheap markets was held at Cafe Rizky Gemawira, Jalan Juanda, Pekanbaru City.
Chairman of the Mother – Mother of Sandi's Riau Friends, Awalia Rahman, on the sidelines of the cheap market, admitted that he was very happy to see the enthusiasm of the residents in shopping for basic necessities.
"Today we are helping the community, especially for mothers, by providing a solution, namely the basic food bazaar, where we know the prices of basic commodities are currently soaring, according to Mr. Sandi's program we are asked to focus on helping mothers, namely by holding a basic food bazaar," said Beginning.
Read Also:
DP3 Holds a Cheap Market in Tanjungpinang, Red Chili Sold for IDR 85,000 Kg, Here's the Schedule and Place
Awalia hopes that Sandiaga Uno can advance to the 2024 democratic party and be elected president so that mothers and the community will prosper.
"Until now, there has been a lot of support from mothers for Sandiaga to move forward in 2024. His figure who is responsible for providing a decent life for his people, Mr. Sandi is also consistent with the economic revival program. Mr. Sandi is a leader that the Indonesian people are waiting for," said Awalia.
Meanwhile, one of the buyers at the Cheap Market, Mak Yen, said that the Cheap Market is very good to do when the prices of basic commodities are all rising. He admitted that he was greatly helped by the existence of the Cheap Market.
"We, the people of Pekanbaru, who are underprivileged, are greatly helped by the cheap market from MSME Sahabat Sandiuno. God willing, I and other mothers will support Sandiaga Uno to run for president," said Mak Yen.
The community also expressed their gratitude to the SME's Mother – Mother of Sandiuno's friends who had held the Cheap Market.
Read Also:
Sandiuno's Friend Trains Fresh Fish Cultivation to Independent Feed to Hundreds of Fish Farmers