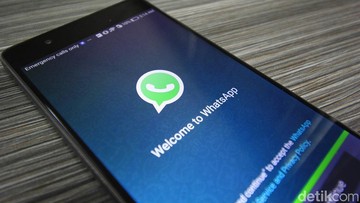 Newsdelivers.com, Insertlive –
Recently, there have been cases of hijacking or cloning WhatsApp accounts.
Usually, criminals will use many ways to be able to carry out their actions.
One of the ways for perpetrators to access someone's WhatsApp is by requiring a QR code scan.
However, the perpetrators will usually need special physical access from the victim's cellphone.
After gaining access to the victim's account and monitoring the entire conversation, the perpetrators pretend to be the victim.
To be aware of that, here are 3 signs that your WhatsApp account is being cloned or hijacked.
Launch CNBC Indonesiasee the summary below:
1. OTP (One Time Password)
If WhatsApp users get a One Time Password (OTP) containing a six-digit number sent via SMS, it can mean that someone is trying to install an account on another device.
So, if you get a message containing the OTP code, ignore it and don't give it to anyone.
2. Sudden Exit from WhatsApp Web
Suddenly leaving the WhatsApp Web service, one of the other signs is that your account is being hijacked.
You can check other devices that have access to your account by pressing the three-dot icon at the top right as the WhatsApp Web mode option.
3. Messages Read & Sent
Messages that have been read without realizing it are a sign that your WhatsApp account is being hijacked.
In addition, a WhatsApp account that is suddenly sent without your knowledge can be a sign that someone is accessing your account secretly.
How to Secure WhatsApp Account
To avoid piracy, install two-factor verification by entering six numbers first.
Here's how to activate:
– Click the three-dot option on the top right.
– Setting > Account > Two Step Verification.
– Klik Enable.
– Enter the six selected secret codes.
– Enter an email to restore the password if the user forgets it.
(dis/and)