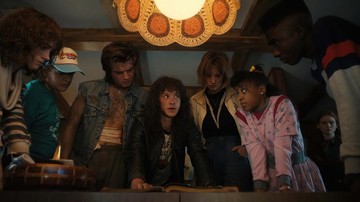 Newsdelivers.com, Insertlive –
serial script Stranger Things 5 started working on by the production team. This information was revealed by the scriptwriting team upload Stranger Things via Twitter.
"First day," tweeted the @strangerwriters account, Tuesday (2/8).
They also uploaded a photo of a white chalkboard with the words Stranger Things 5 in that tweet. The reflections of the scriptwriters can be seen from the board.
Until now, there is no known broadcast schedule Stranger Things 5. The fifth season is rumored to be closing the story of the series that airs on Netflix.
"There are still so many fun stories to tell in the world Stranger Things: new mysteries, new adventures and unexpected heroes," said the Duffer Brothers as creators at once showrunners Stranger Things.
"But, we hope you all stick with us to finish this story," he concluded.
On a different occasion, the Duffer Brothers had revealed that there would be spin-off from Stranger Things. Later the spin-off will not focus on several main characters such as Eleven, Steve Harrington, to Dustin.
"It doesn't interest me because we've done that. We've spent so much time exploring it all. So this (spin-off) will be very different," said the Duffer Brothers during guest appearances podcast Happy Sad Confused.
Besides spin-offNetflix is ​​also preparing a stage set in the world and mythology Stranger Things which will be co-produced with Sonia Friedman and Stephen Daldry.
(yoa/and)