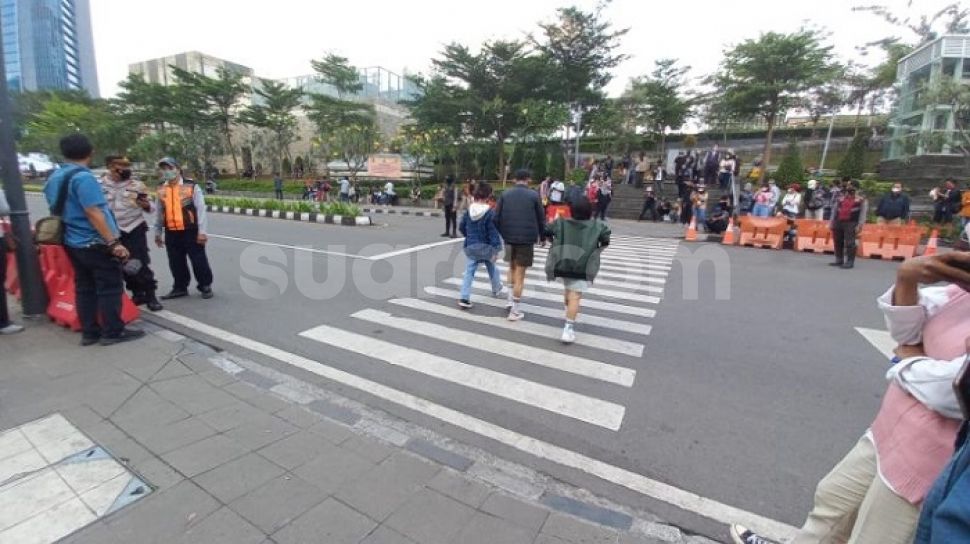 Suara.com – The pros and cons of Citayam Fashion Week have been rumored to have disbanded recently. However, the DKI Jakarta Provincial Government explained that Citayam Fashion Week was still allowed with certain conditions.
Even so, the issue of Citayam Fashion Week being prohibited from being carried out received negative reactions from several parties, including teenagers in videos uploaded to Instagram accounts. @viral_news the following.
A number of teenagers were seen throwing a tantrum even to the point of throwing traffic cone to the middle of the road allegedly due to rampage did not accept the ban on Citayam Fashion Week. They don't even care if their actions can endanger some road users who are passing by.
Not only that, they also don't care even though it's a spectacle as well as being recorded by many people who gather around the streets where Citayam Fashion Week is usually held.
Read Also:
Viral Video Jeje Slebew Walks Without Escort Again, Netizens Nyinyir: Seasonal Celebs
"The teenagers are angry because Citayem Fasion Week is closed," write @viral_news in column captiondescribes the situation that appears in the video, quoted Suara.com on Friday (29/7/2022).
It is seen that they have also tried to be stopped, both by local residents and security officers. Occasionally police officers are also seen returning positions traffic cone thrown by the raging teenagers.
The situation recorded on the video certainly reaped various responses from netizens. Most criticized teenagers who were desperate to destroy public facilities in order to vent their anger.
Not only that, several netizens also openly admitted that they were grateful that Citayam Fashion Week was disbanded because it was considered to disrupt the smooth flow of traffic.
"Thank God, it's a pity that people who come home from work want to go home quickly instead they get stuck in traffic," commented the netizen.
Read Also:
Bonge Nangis Ordered to Return Endorse Money: The Money Has Run Out
"There is no benefit, only harm to many people." Another netizen criticized the implementation of Citayam Fashion Week.