Suara.com – Sebastian Vettel, Thursday (28/7/2022), announced his plans to retire from Formula 1 at the end of this season. The 35-year-old German racer said he wanted to focus on his family and life off the track.
Sebastian Vettel is the holder of four Formula 1 world titles. He won all four of his titles with Red Bull in 2010-13 and spent six seasons with Ferrari before joining British side Aston Martin, who currently sit ninth out of 10.
He announced his retirement plans ahead of the Hungarian Grand Prix, which will be the 13th series on the calendar and the last race before the summer break.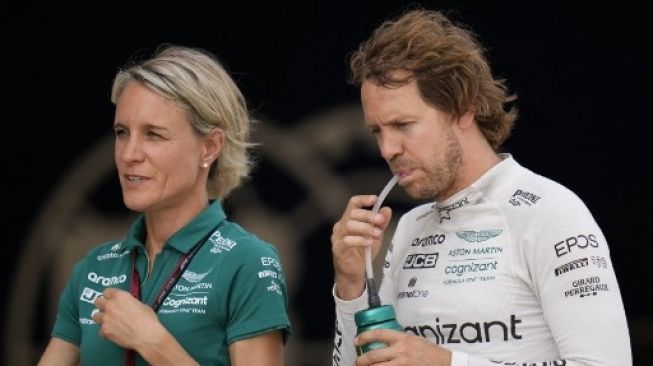 Here are the reactions of celebrities and teams in Formula 1 to Sebastian Vettel's retirement plans at the end of the season, as reported by Antara from Reuters, Thursday (28/7/2022).
Read Also:
Wants to retire from Formula 1, Sebastian Vettel: I've had a life off the track too
Seven-time world champion Lewis Hamilton
"Sebastian, I'm honored to call you a competitor and even more an honor to call you a friend. You left this sport in a better way when you found it, which is always a goal. I have no doubt that whatever awaits you will be fun, meaningful and rewarding. . I love you, pal."
Haas team driver Mick Schumacher, son of Michael
"I'm very sad to see you go, but at the same time feel happy for you and this new chapter in your life. You have been and are still an important person to me and I am so grateful for our friendship. Thank you for everything you have given to the same sport. -we love this, I can't wait for our last race together. Thank you, B-you're an inspiration."
Ferrari driver and former teammate, Charles Leclerc
Read Also:
Sebastian Vettel confirms retirement from F1 at the end of this season
"What a great person and rider. We will miss you, Sebastian."
Red Bull
"Thanks Sebastian. Cheers to the good times!"
Ferrari
"Sharing so many memories with you in Formula 1 is an honor. Hope to enjoy the last races together in the paddock. All the best for the challenges ahead in your life."
Former racer, and three-time world champion Jackie Stewart
"Four world champions, 53 wins and always a rogue! Congratulations, Sebastian, on a career that will always go down in history books as one of the greatest of all time."
McLaren
"Legend status. Congratulations on a great career, Sebastian. A champion on and off the track."
Mercedes driver George Russell
"Enjoy retirement, Seb, you are a true F1 legend! You will be missed, my friend."
Former Red Bull teammate Mark Webber.
"Congratulations, buddy."