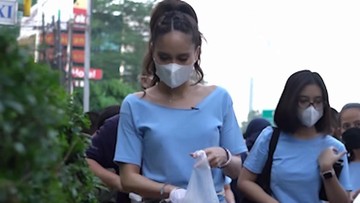 Newsdelivers.com –
Some figures public figure began to show interest in Citayam Fashion Week (CFW), including Cinta Laura, Mother. Recently, Cinta Laura had the opportunity to visit CFW in the Sudirman area.
Different from most artists and public figure On the other hand, Cinta Laura does not intend to interview or create content with CFW participants. He actually made a movement to clean up trash, you know.
This was immortalized directly by Cinta Laura on her Instagram page. He hopes that his action can set a good example for all visitors and CFW participants.
"We hope that from the actions we took today we can give example which is good for friends there. Want to fashionablealways do Citayam Fashion Week, it's okay. But that doesn't mean you have to destroy the environment," he said in a video seen on his Instagram account @claurakiehlMonday (25/7/2022).
Not only that, Cinta Laura also had the opportunity to deliver an oration in front of CFW visitors. He
"I hope we can all be disciplined, not littering, throwing garbage in its place, and making Indonesia a cleaner and freer country. Who's with me?' said Love Laura.
On the video description page, Cinta Laura added that environmental damage will be felt in the near future. The younger generation can no longer close their eyes to this reality.
Garbage is one of the things that can pollute the environment. Not only has a bad impact on the air, garbage can also pollute the water, you know.
"Believe it or not, The garbage that we throw away every day which is finally accommodated in landfills can release methane, a hydrocarbon that pollutes the air we breathe. Of course, garbage also poisons our water sources. Not scary enough?"
Furthermore, this 28-year-old woman also provides an illustration of the environmental damage that will occur in the next few years, including the result of human greed.
"Yes guys, this is REALLY happening! Not for short term gain orconvenience"what you got from plastic and a lifestyle that doesn't sustainable you are ruining the future of all of us," added the Columbia University graduate.
The movements and actions performed by Cinta Laura made many people proud and praised her, Mother. Cinta Laura is considered to have set an example and been an inspiration to other young people.
Click read the next page, come on.
Mother, let's download the Allo Bank digital application here. Get 10 percent discount and 5 percent cashback.
Also watch the video of face shields that are not made of plastic to save the earth below:
[Gambas:Video Haibunda]