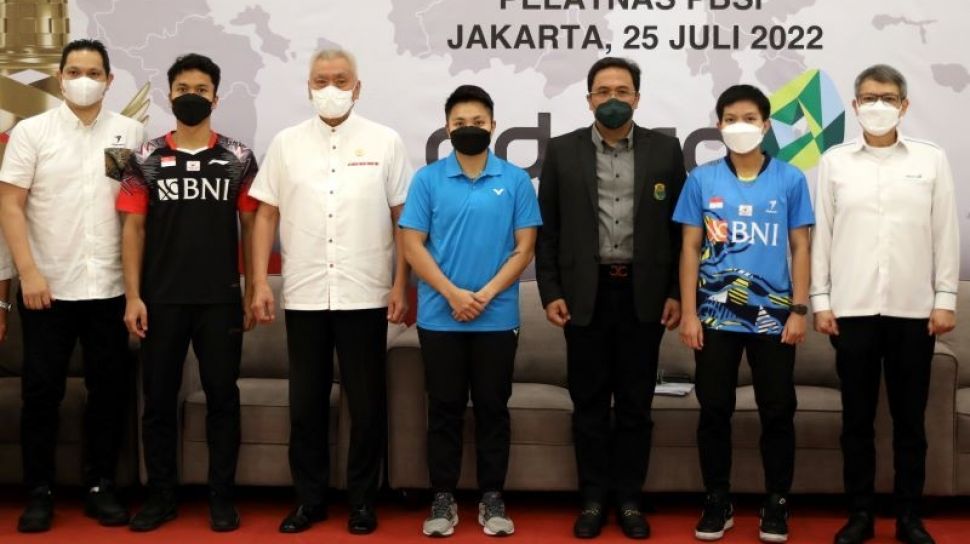 Suara.com – A number of national badminton players who reside in the PBSI Pelatnas in Cipayung said they were happy with the inaugural implementation of the 2022 President's Cup which could have an impact on the development and regeneration of Indonesian badminton athletes.
One of them is the bronze medalist of the Tokyo Olympics, Anthony Sinisuka Ginting, who believes that the competition, which will be held on August 1-6, can produce new and reliable badminton players.
"This competition for young people is important and good, hopefully new quality seeds can emerge. From the results of this championship, hopefully they can join Pelatnas. The hope is that they will not only match, but even surpass us," said the men's singles specialist badminton player in Jakarta , Monday (25/7/2022).
In addition, the phenomenal women's doubles Apriyani Rahayu / Siti Fadia Silva Ramadhanti also expressed their opinion about the 2022 Presidential Cup.
Read Also:
PBSI: President's Cup with Prizes of More than IDR 1 Billion
Fadia hopes that the winner of the 2022 President's Cup will be able to contribute to bringing Indonesia's good name in the international badminton arena.
"With this event, of course, children from the regions can show their teeth and help prove their quality. Even though they are from the regions, they can enter the National Training Center and become champions. Hopefully these new seeds will further advance Indonesia on the world stage," said Fadia.
Meanwhile, Apriyani views that the implementation of this inaugural performance will be a new record in the domestic badminton ecosystem.
"Hopefully from here we can get new athletes, as well as more badminton achievements that will be recorded in the country. We hope that these younger siblings will be able to step up to a higher level," said the athlete who won the gold medal at the Tokyo Olympics when met on the same occasion.
The hope for the arrival of new names in the Cipayung National Training Center through the President's Cup is also the concern of the Head of the Development and Achievement Division of PP PBSI, Rionny Mainaky.
Read Also:
Results of BRI League 1: Kneeling at Persikabo Headquarters 1973, Persebaya Surabaya Swallowed Defeat in First Match
Personally, Rionny said he was very happy with the implementation of the President's Cup. He hopes that this agenda can be held regularly every year, so that it is no less prestigious than other sports that also hold championships with a similar title.
"I'm certainly very happy with this event. I will also take the time to monitor the competition. We want to find the best candidates from the region and who have excelled," concluded Rionny, published by Antara.