Cardi B who doesn't know rapr this one? Cardi B is known as one of the rappers who has fashion sense unique and bold. Every look she wears has always been iconic, even an inspiration for some people. No wonder if style fashion Cardi B's possessions were also passed down to his son, Kulture Kiari.
Several times Cardi B and the child were seen wearing matching clothes, at other times Cardi B also often dressed the child in a unique and attractive appearance. Below, a row of eccentric looks ala Cardi B and his son, Kulture Kiari, let's have a look!
Pink Birkins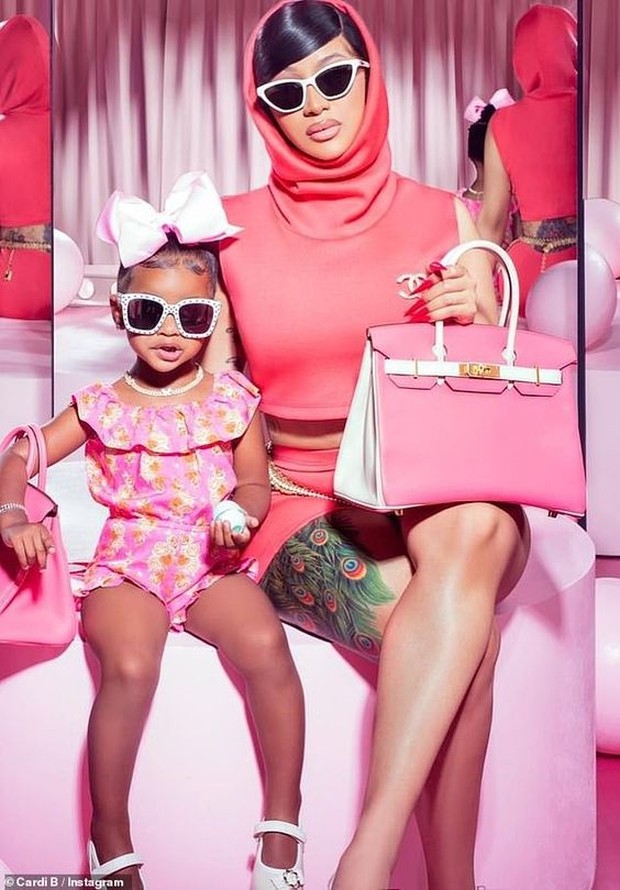 Cardi B and Kulture/ photo: instagram.com/ @iamcardib
In the photo uploaded (1/9/22) Cardi B on her Instagram social media (@iamcardib) with her child, Cardi B looks perfect in an all-pink look. Use birkins bagCulture seems to combine its appearance with pink floral dress, coupled with quirky accessories, namely large white glasses with crystal accents and a large ribbon headband on his head. Meanwhile, her mother, Cardi B, was also seen wearing white glasses and a pink top from the Chanel brand. The display caught the attention of netizens, and not the least praised the cohesiveness between Cardi B and Kulture.
Vogue Cover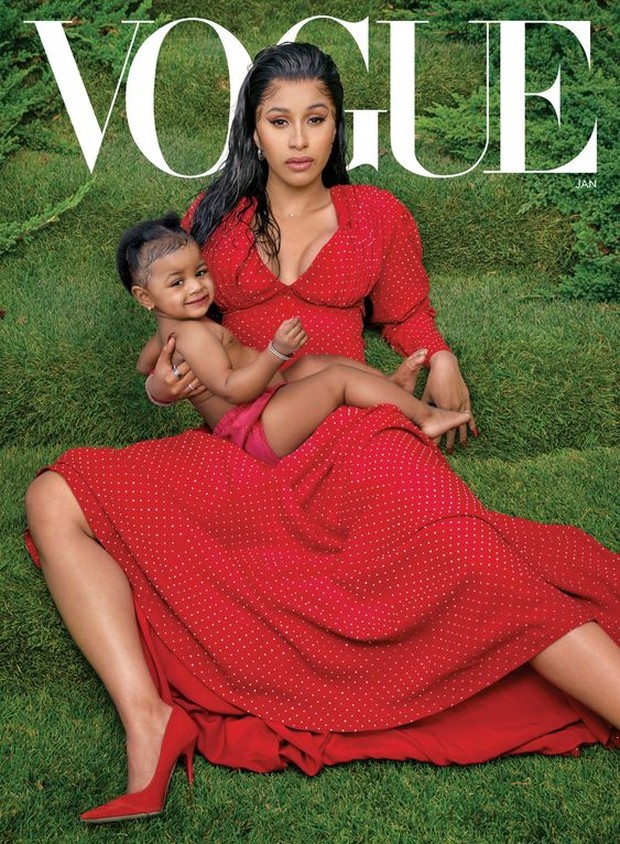 Vogue cover/ foto: vogue.com/ Annie Leibovitz
Cardi B and Kulture looked stunning in red for the cover of Vogue magazine. In portrait looks stunning Cardi B using polkadot dress Michael Kors collection, while Kulture looks flawless with only red shorts. Themed "Unfiltered, Unapologetic, Unbowed", the cover of the magazine successfully featured chemistry charming relationship between Cardi B and the child.
Burberry Besties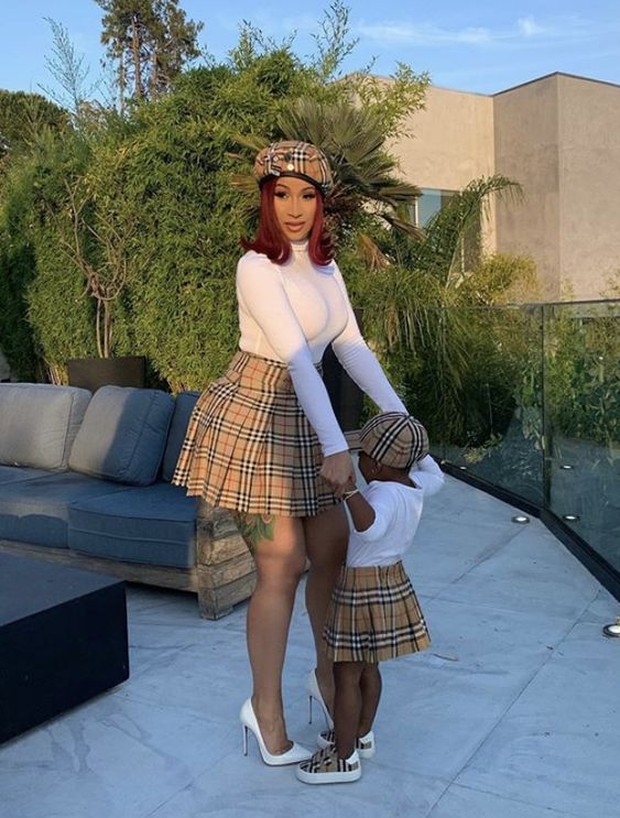 Cardi B and Kulture with burberry set/ photo: instagram.com/ @iamcardib
Try with the theme aestheticCardi B is still charming and quirky with a Burberry look collectionher it. In the photo, Cardi B is seen again wearing twin clothes with her son Kulture. Looks good wearing a skirt tartan and a white top, the Cardi B combines the look with a hat accessory beret and high heels white, while Kulture looks more sporty with hat baseballher and shoes sneakers.
1st Birthday Party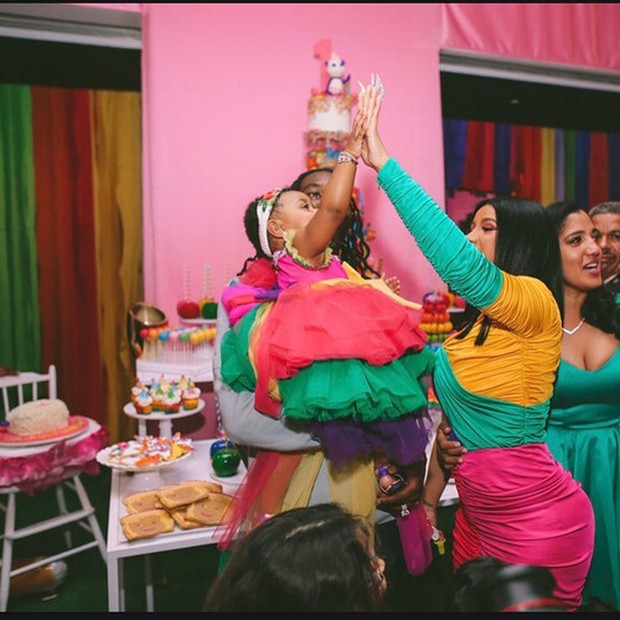 Onedurful irthday Party/ foto: instagram.com/ @iamcardib
Shades colorful, Cardi B and Kulture are back together again on Kulture's first anniversary. On the anniversary, Cardi B wore a dress designed by Jeremy Scott, Cardi B wore the long-sleeved version of the moschino dress, while Kulture wore the long-sleeved version. ruffle tiered. Having 3 colors, namely red, yellow and green, the quirky appearance again stole the attention. The three colors also add to the impression colorful and matched the theme of the birthday party that was carried, namely "Onedurful Birthday".
Colorful Yellow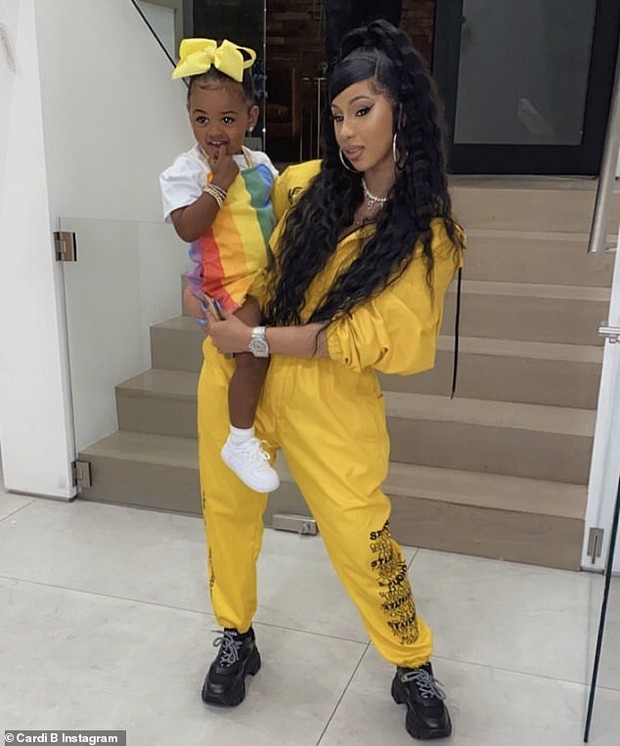 TT album party/ foto: instagram.com/ @iamcardib
As an invited guest, Cardi B again showed her ability in fashion, at a party organized by Teyana Taylor to celebrate the release of her album, Cardi B looked stunning in a yellow suit from top to bottom, not wanting to be different, she also matched clothes with her son, Kulture to look harmonious. Cardi B is seen wearing a suit hazmat which is really designed especially for Taylor's album party. Meanwhile, Kulture looks cute with a rainbow dress and yellow ribbon accessories on her head. Beautiful cake girl!
—
Want to be one of the readers who can take part in various exciting events at Beautynesia? Come on, join the Beautynesia reader community, B-Nation. The method REGISTER HERE!
(raf/raf)