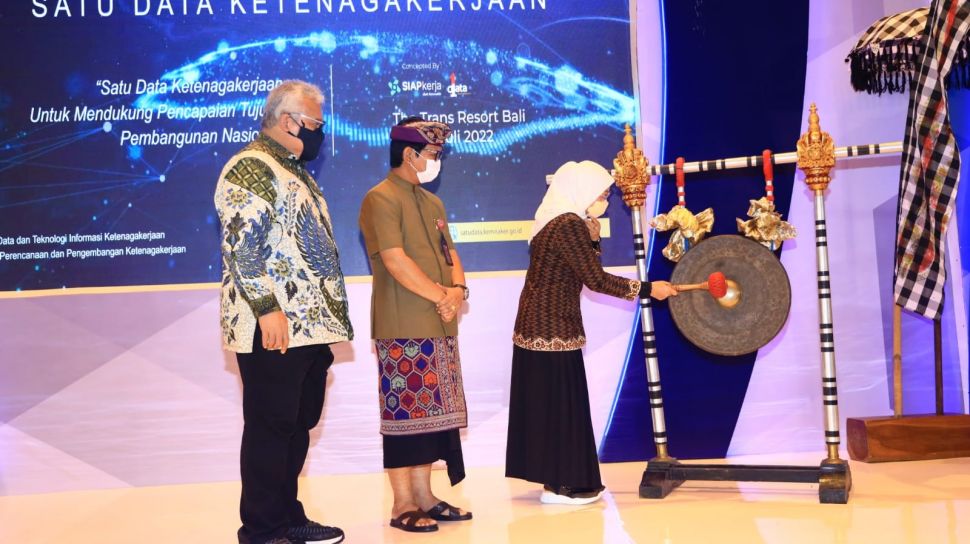 Suara.com – The Minister of Manpower (Menaker), Ida Fauziyah introduced the application for the One Employment Data Portal and SMData at the National Coordination Meeting (Rakornas) for One Manpower Data (SDK) in Badung, Bali, Thursday (21/7/2022). This application is a supporter of one employment data that can be used by the central and regional governments to accelerate the implementation of one employment data.
Ida said the Ministry of Manpower continued to strengthen the implementation of the one manpower data policy by coordinating between manpower agencies at the central and regional levels. This coordination aims to unify the perception of the principle of labor data in Indonesia.
The National Coordination Meeting for One Employment Data is a series of synergies of central and regional programs and activities, related to the implementation of One Indonesia Data in the manpower sector.
"This National Coordination Meeting serves as a medium to strengthen cooperation, collaboration, and synergy between the Ministry of Manpower and the Manpower Office, in realizing labor data governance that meets the principles of One Indonesia Data," he said.
Also Read:
Idly download an application, this woman is confused about getting a lot of nasty chats
Ida said the SDK also unified the principle of one employment data to support national recovery, especially the labor sector which was shaken by the Covid-19 pandemic.
According to him, steps are needed to realize the agenda of economic recovery and sustainable national development after the pandemic, including determining priority sectors, promoting the job market, providing cash assistance benefits, maximizing the impact of fiscal stimulus, and encouraging green financing innovation.
"There is a common perception between the Ministry of Manpower and the office in charge of manpower regarding data standards, metadata, and employment data reference codes," he said.
Meanwhile, the Head of the Manpower Planning and Development Agency at the Ministry of Manpower, Bambang Satrio Lelono, said that the reform of labor data governance through the one employment data policy is fundamental to realizing the availability of accurate, up-to-date, integrated, integrated, easily accessible and reusable employment data.
"In the end, every decision making and employment policy has the support of quality, relevant, accurate, up to date, complete and sustainable data and information and is evidence based," said Bambang.
Also Read:
Are WhatsApp, Instagram, and Facebook Blocked by Kominfo today?
Bambang said that the Ministry of Manpower had carried out various series of synergies of central and regional programs and activities in the implementation of One Indonesia Data in the field of employment.