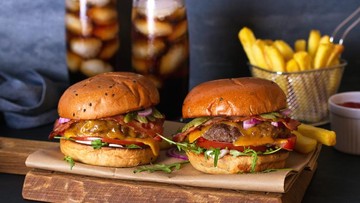 Newsdelivers.com
–
School is back, face to face, Mother. To maintain health, there's nothing wrong with bringing your little one lunch. So, so that children don't get bored with their lunch menu, you can create variations.
One of them is a restaurant-style burger menu. With burger buns plus smoked meat filling, eggs, and mozzarella cheese, this could be your little one's favorite. It doesn't take long to make, so it's perfect for a breakfast menu or lunch for your little one to school.
Just look at the ingredients and how to make the following restaurant-style burgers:
Ingredients:
2 burger buns
2 eggs
5 pieces of smoked meat
100 grams of grated mozzarella cheese
35 grams of onions
80 grams of chopped bell pepper
1 tbsp chopped parsley
Pepper to taste
Salt to taste
How to make:
1. Cut into 5 pieces of smoked meat.
2. Split the burger bun into two halves, then remove the middle.
3. Heat the oil on a teflon, fry the onions until fragrant. Enter the sliced ​​smoked meat, paprika, stir-fry until cooked, then remove and set aside.
4. Prepare the plate. Put the burger bun that has a hole in the middle, fill it with stir-fried smoked meat.
5. Add an egg, grated mozzarella cheese on the edge of the bread, sprinkle with parsley, cover with the top of the bread, then wrap with aluminum foil.
6. Bake for 15 minutes at 180 degrees Celsius.
7. Remove burgers from aluminum foil, arrange on a serving board. Give chopped peppers as a sweetener and mayonnaise as a complement. Supplies are ready for your little one to bring!
Well, if you are in a hurry to go to school and don't have time to bring lunch. Try sending your little one lunch with a Wendy's Burger. Get it for free with download Allo Bank day upgrade to alloPrime, and get Rp. 25 thousand for new mothers download for the first time.
Mother, you can too download Allo Bank digital app here. Get many other promos.
Check out other burger recipes, black rainbow cheese burger through the following video, Mother:
[Gambas:Video Haibunda]
(I am/I am)