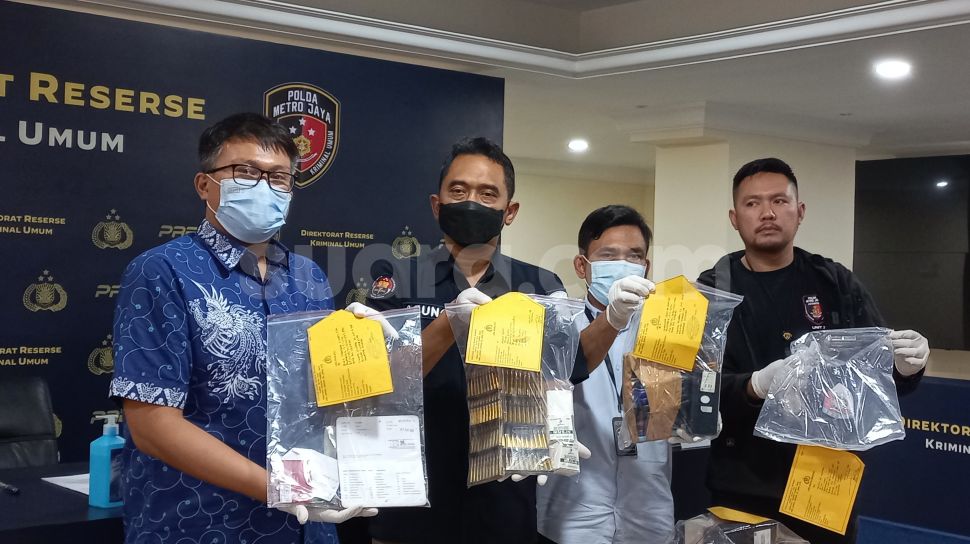 Suara.com – The Sub-Directorate of Resmob of the Directorate of General Criminal Investigation (Dirreskrimum) of the Metro Jaya Police arrested two suspects in an account fraud syndicate with a total loss of Rp. 181 million. The two suspects were arrested at their hiding place in the forest of Lebung Itam Village, Ogan Komering Ilir Regency, South Sumatra.
Kanit 2 Resmob Ditreskrimum Polda Metro Jaya Kompol Maulana Mukarom said his party helped to secure evidence in the form of long-barreled firearms along with bullets and revolver-type homemade weapons.
"We arrested him directly at his post. He was arrested in a hut in the forest and we caught him there and there were guns and bullets," said Maulana at the Jakarta Metro Police, Tuesday (19/7/2022).
In addition to securing evidence of firearms or rifles, investigators also secured methamphetamine. Based on the results of the investigation, it was found that the suspects were also involved in drug trafficking cases.
Also Read:
Polda Metro Jaya Names Pertamina Truck Driver and Kernet as Suspects in Deadly Accident Case in Cibubur
"Besides they are syndicates, they are also drug dealers. For drug cases, we are coordinating with the Narcotics Directorate of the Metro Jaya Police to deal with them professionally," he said.
Maulana said investigators were still developing this case. However, from the results of the initial investigation, these suspects have a role in finding targets and disbursing the proceeds of crime.
"The role of this syndicate is to call the victim and secondly, there is the task of the data team and the third task is its role as a money changer. So the team disburses the proceeds of crime," he said.
Meanwhile, the Head of Sub-Directorate for Penmas Bidhumas of Polda Metro Jaya Kompol Hari Agung Julianto revealed the suspects' modus operandi, namely by pretending to be bank employees.
"The suspects committed fraud by offering advertisements for upgrades to priority customers with a myriad of promotional appeals. The fraudsters will ask the victim to provide personal data such as ATM numbers, PINs, OTPs," he explained.
Also Read:
Deadly Accident in Cibubur Causes 10 People to Die, Pertamina Truck Driver and Kernet Become Suspects
For their actions, the suspects were charged with multiple articles. The details are Article 372 of the Criminal Code, with a maximum imprisonment of four years, Article 30 Juncto Article 46 of Law Number 19 of 2016 concerning amendments to Law Number 11 of 2008 concerning Information and Electronic Transactions with a maximum imprisonment of eight years, and Article 1 Paragraph 1 of the Emergency Law No. 12 of 1951 with the threat of imprisonment for a maximum of 20 years in prison.