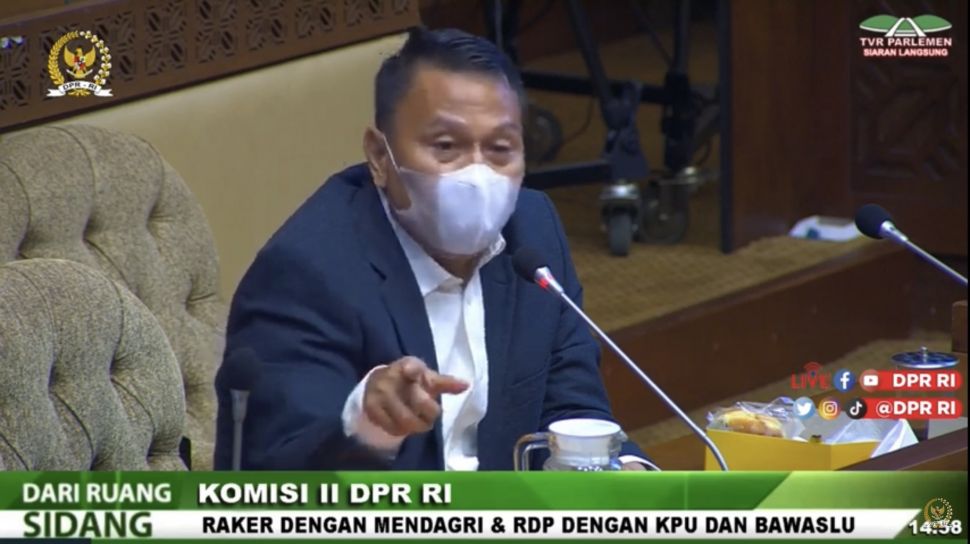 Suara.com – Member of Commission II of the DPR from the PKS faction, Mardani Ali Sera, believes that the government needs to respond to the suggestion of Depok Mayor Mohammad Idris regarding the merging of Bogor, Depok and Bekasi into the Jakarta part of Greater Jakarta.
He said the government could respond to the proposal through the Ministry of Home Affairs by conducting a study.
"The central government must immediately arrest him. The Ministry of Home Affairs can start a study or raise an old study that has been done," said Mardani, Friday (15/7/2022).
Regarding Idris's proposal, Mardani views that the Greater Jakarta proposal is a good idea.
Also Read:
Bodebek Joins Jakarta, Deputy Mayor Imam Budi Hartono: Depok is Closer to Jakarta Than Bandung
"It's a good idea and can be implemented immediately. It will facilitate the management of Greater Jakarta," he said.
Previously, member of Commission II of the House of Representatives from the Democratic Party faction, Anwar Hafid, said that Depok Mayor Mohammad Idris' proposal to make Depok, Bogor and Bekasi part of Jakarta required a very long process. He considered that the proposal would be complicated if it was actually implemented.
Even so, Anwar said that he understood Idris' desire to incorporate Depok into part of Jakarta rather than West Java. According to him, Idris's consideration is related to the span of control aspect.
Where Depok, which is a suburb of Jakarta, will certainly have easier access to services for the government and the community.
It's a different story at this time, where Depok, which is part of West Java, must of course coordinate with Bandung as the center of the province.
Also Read:
Proposed Jabodetabek to become Greater Jakarta Area is considered to be able to overcome systemic problems
"I saw, understood what was conveyed, what the mayor of Depok City did came from there. From the desire for how the people of Depok could be served more optimally because geographically Depok had to go to Bandung if you wanted to deal," said Anwar when contacted, Wednesday (13/7/2022).
According to Anwar, there are aspects of service that are not just for the community but between the government. This aspect of service cannot be reached by technological sophistication through online services.
This may also be the trigger for the proposal for Depok to leave West Java and join Jakarta.
"For example, the span of government control, then the distribution of development. Yes, you might also feel that Depok or DKI is the same as the boundaries, it's far different, maybe the development," said Anwar.
But what Mayor Idris needs to understand is that his proposal is not as easy as turning the palm of the hand. It takes a very long process and is certainly inconvenient because it has a comprehensive impact on other aspects.
For example, changing the status of Depok City which was previously an autonomous region into an administrative area. Considering that the cities that are included in the DKI Jakarta area are currently administrative in nature, not autonomous, in which the mayoral election is directly appointed by the governor from among civil servants (PNS).
"Of course this is a very long procedure and a bit complicated, why? Because first Depok is an autonomous region, so if he moves to Jakarta, he is not an autonomous region but an administrative region. Therefore, that is one of the big obstacles," said Anwar.
Not to mention that there are many regulations that need adjustment, such as the Law on the Establishment of the City of Depok, as well as other cities, such as Bogor and Bekasi, which are proposed to be included in Jakarta. In addition, regional transfers to other provinces must be approved by the community.
"That has to change first. Second, there must be approval from the West Java provincial government and the West Java DPRD. That's right, so the procedure is very, very long," said Anwar.
Previously, Mohammad Idris suggested that the suburbs of Jakarta, including Depok, Bogor and Bekasi, be united in DKI Jakarta and then become Greater Jakarta.
"My idea is that if you want the development of Jakarta and its surroundings to be successful, unite Greater Jakarta," said Mohammad Idris after reviewing the slaughtering of sacrifices on Jalan H Icang, Tugu Village, Cimanggis, Sunday (10/7).